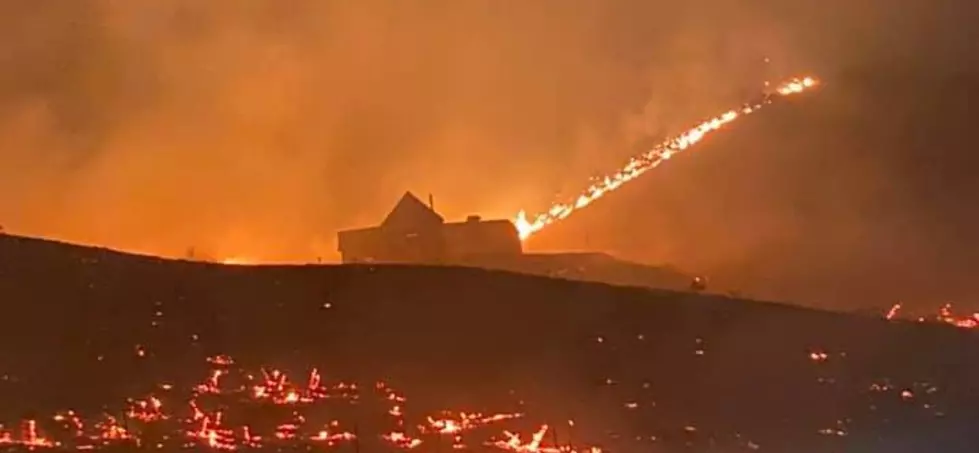 Evans Canyon Fire grows to 52,000 Acres, 5 Homes Destroyed
Photo courtesy of Yakima County Fire District 5
The Evans Canyon Fire continues to burn just north of Natches, in Yakima County.  So far, the fire is at 0% containment and has burned 52,000 acres.
It's being reported that five homes have been destroyed in the fire along with an undetermined number of cars, RV's and outbuildings.
According to today's forecast, temperatures will be in the mid-80s to lower 90's. Winds are light, however ridgetop gusts are expected at 20 to 25 mph.
A release issued by Northwest Incident Management Team 12 states:
Closures:

Parts of North Wenas Road, Sheep Company Road and Natches Wenas Road are closed. Highway 821 (Yakima Canyon Highway), BBQ Flats and Wenas recreation areas are closed. The Yakima River Canyon is closed, including boat launches and campgrounds.

Safety Message:

Level 3 evacuation orders are in place for all homes north of Wenas Lake, west of Longmire Lane and north of Naches Wenas Road in Selah, and north to the Kittitas County line. Level 3 evacuations extend south to Wenas Creek, east of Sheep Company Road to the Yakima River and in the Yakima Canyon. 924 residences remain under Level 3 evacuation orders. For evacuation updates, visit the Facebook page at YakimaCountyOEM. Please be aware of high temperatures and increased fire traffic in the fire area and surrounding communities.
Enter your number to get our free mobile app
15 Athletes Who Came from Eastern Washington & Eastern Oregon