Taylor Swift to Headline the Victoria Secret 2013 Holiday Fashion Show!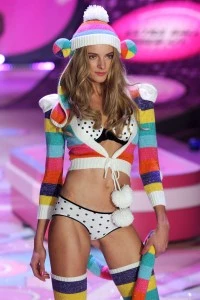 Look for Taylor Swift at this year's Victoria Secret Fashion Show! It's no joke — Swift is predicted to be the big draw at the annual holiday lingerie cat walk. Here's how to see her with the Victoria Secret "angels":
The show actually tonight, but it's the taping. You can see the show when it airs Dec. 10 on CBS at 10 p.m.
The show features women in lingerie looking like orchids, flower baskets, Christmas presents and fairies from outer space.
Check out Faith Martin's advice for buying lingerie.
If lingerie models are your thing, you should see the model who broke the world speed talking record.
Did you see the story about the Dallas school teach teacher who was fired for modeling?