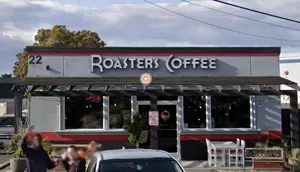 Roasters Coffee's New Name Is…(Drum Roll Please!)
credit: google street view
You might've heard that Tri-Cities favorite Roasters Coffee has sold to an Oregon firm but what you might not know is what the new name will be and I think we might have an inkling.
The cool thing about Roasters Coffee is that it sprang up from one stand in the Pasco Red Lion parking lot in 2009.
I remember driving by that very first coffee stand and wondering what Roasters Coffee was all about.
The little stand became 12 stands along with stands in Walla Walla and Spokane. The original Roasters was founded by Wes Heyden.
The popular Tri-Cities coffee stands have now been sold to an Oregon firm. The changes outside of a name change will be minimal according to reports after the purchase.
In an article posted by KEPR-TV, a name change is on the horizon though.
I'd speculate that Roasters will soon change their name to reflect their new parent company Black Rock Coffee Bar.
Black Rock Coffee Bar has 80 locations and got its start in Beaverton Oregon.
Speculation is that the new name of Roasters will be Black Rock Coffee Bar but outside of that, both stands have similar products and not much else is expected to change beyond the name. You'd be surprised that even the buildings of both companies are similar.
Don't be surprised this fall if you see the new name Black Rock Coffee Bar on the masthead but the good news is that it'll be the same coffee products you already enjoy from Roasters Coffee.
You can read more details about the name change and the sale here.
CHECK IT OUT: See the 100 most popular brands in America
50 Famous Brands That No Longer Exist