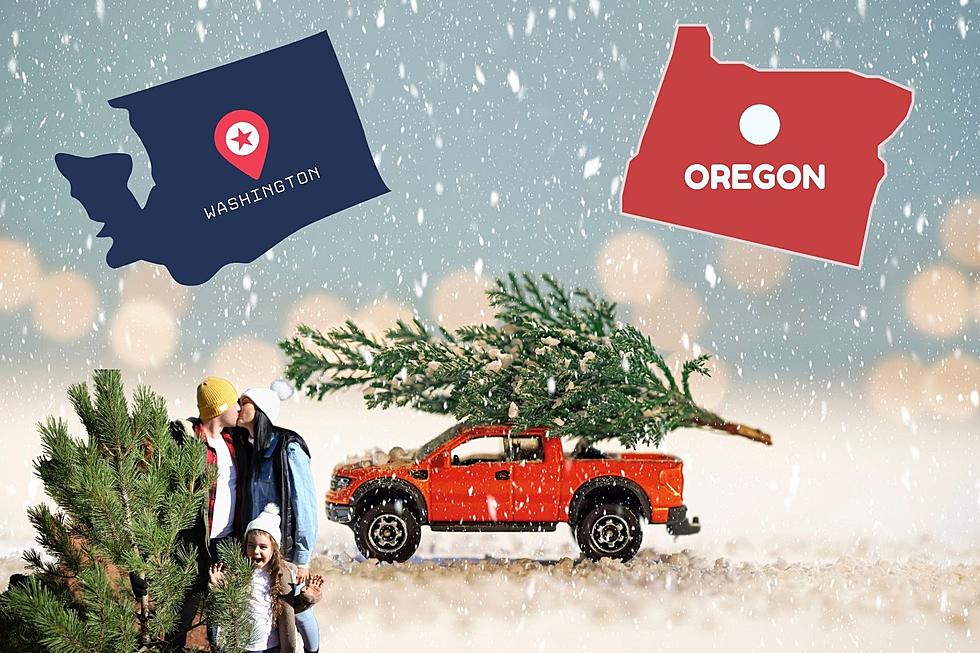 Finding the Perfect Christmas Tree: A Festive Journey in Washington and Oregon
Canva-Getty
As the days become shorter and the air chillier, the scent of pine begins to fill the air around the northwest. Yes, I know, it's not Thanksgiving yet - but Christmas is coming, and now is the time to start planning your trip to find a Christmas tree! What better way to get in the holiday spirit than packing up the family and embarking on an adventure to find the perfect tree? Thankfully, those of us living in Washington or Oregon have plenty of choices to find one, whether you cut it yourself or get one from a lot or farm.
Where can I cut a Christmas tree in Washington?
Washington, also known as the evergreen state, has a lot of options when it comes to cutting your own tree. One of the most popular areas is Mt. Baker-Snoqualmie National Forest. During cutting season, a winter wonderland awaits you in the higher elevations with a forest-filled selection of Douglas or Noble firs, but you'll need a permit from the US Forest Service first. They're only $10 and available online from the USFS website. The permit allows you to cut a tree up to 15 feet high! The USFS has a complete list of areas you can cut from - get the details and a Christmas tree-cutting information sheet here.
Where can I cut a Christmas tree in Oregon?
Oregon offers those who are hunting for the ultimate Christmas tree, just as many options as Washington. Take a trip to the breathtaking Willamette National Forest and take a stroll through the quiet snow-filled forest which will surely put you in the holiday spirit. Again, you'll need a permit from the US Forest Service. Check out some of the most popular locations to cut a tree in Oregon here.
Where can I find a Christmas tree farm in Washington or Oregon?
If hiking in the woods doesn't sound like fun, you can find a tree at one of the many Christmas tree lots within your hometown or at a tree farm. Some Christmas tree farms offer hot chocolate, holiday snacks, and horse-drawn wagon rides. Check out the list of Christmas tree farms in Washington and Oregon.
Whether you choose Washington or Oregon, cutting your own tree is a tradition that has brought families and friends together dating back hundreds of years. So, when the season arrives, grab your gloves and snow boots, a saw big enough for the job, your family, and the dog, and set out on an adventure to find the perfect Christmas tree.
All That's Missing is Snow White & 7 Dwarves at this Airbnb in Washington
Gallery Credit: Steve Woods
A Winterization Checklist to Ready Your Home for the Cold
You can do the majority of these essential tasks on a weekend by yourself and most don't require a lot of money to complete. Not up to the task? Hire someone handy to do it all. Whatever you decide, they're important winterization steps for all homeowners and by following them your home will be ready for winter and your family more comfortable. And, you'll save a few bucks to boot.
Gallery Credit: Paul Drake