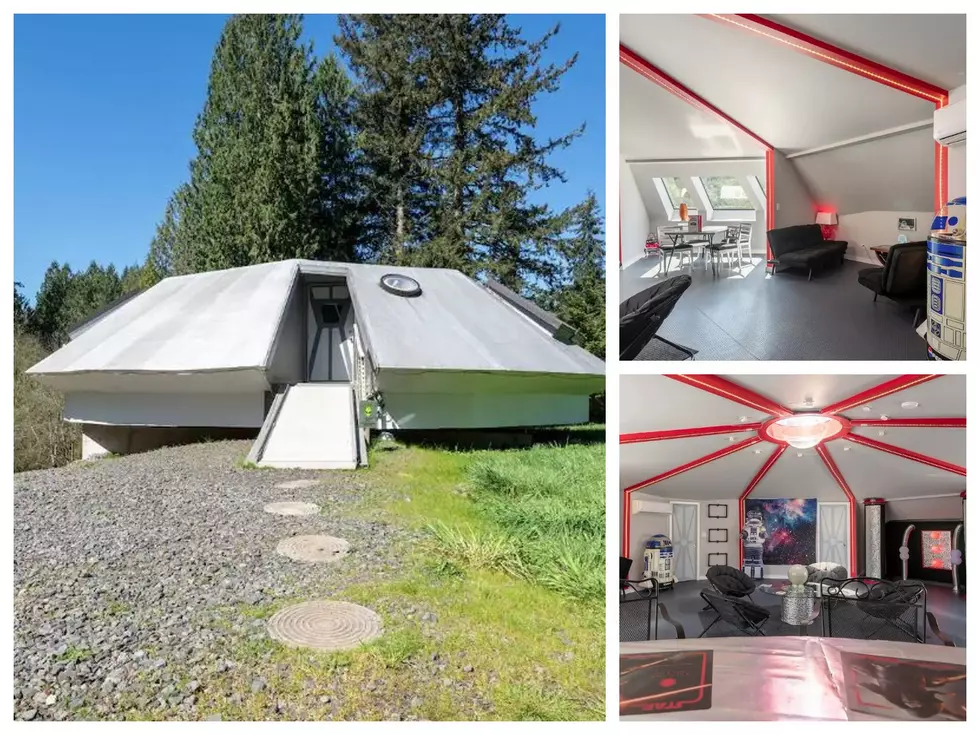 Extraordinary Out of This World Washington State UFO Airbnb Is Worth Beaming Into
credit: pixlr/airbnb
Beam Yourself Into This Amazing UFO Airbnb In Washington State
If you're looking for an out-of-this-world vacation getaway, this UFO Airbnb in Washington State will truly whisk you away to another universe.

If You Love A Unique Airbnb Experience, Here's One For The Books In Washington
Our sister station in Boise Idaho posted about this unique Washington State Airbnb and it caught my eye instantly.
My fellow co-worker Michelle Heart is a science-fiction nut like I am so I can see how she became quickly enamored with this unique Airbnb.
Located near Battle Ground Washington at Brush Prairie, this Airbnb UFO house stands out from the crowd. If you've been looking for a unique getaway, this just might be it.
Take a peek inside this amazing unique Airbnb:
Out of This World UFO Home is Perfect for Vacationing Boise Nerds
Located less than 7 hours from Boise, this unique spaceship home in Brush Prairie, Washington is a perfect place for nerdy families to stay on the way to the Oregon Coast!
Here are details about the listing and property:
726 square feet of one-of-a-kind 1960's futuristic lodging, set down on 5 acres in the rural Hockinson hills.
The space
Next to a year-around creek, among trees, with hills and meadows to explore
Spaceship amenities include a wet bar(Lunar Lounge) with a fridge, gamma ray microwave, and Mr. Fusion's coffee maker.

Two futon sofa/full-size beds, two queen airbeds, and up to four cots available, bathroom with shower, TV, Bluray, "Laser" disc/CD player, stereo, and WiFi, PLUS a pair of freezing tubes(for 5+ year stays).
Guest access
The Spaceship landed only about 30 feet from the host's living quarters, and can be driven right up to its front door entry hatch after traveling down a 1/3 of a mile private driveway. After unloading, parking is provided via the lower deck hangar doors on the north side of the ship.
Other things to note
Friendly natives abound!

The nearest sign of civilization is only about 1 & 1/2 miles away due west, and over the hill. The Hockinson Market provides fresh-made pizza and has its own Taproom.
The Chevron Market provides fossil fuels.

Hocinson Meadows and Alderbrook Park are 3 & 1/2 and 2 miles away respectively.
Further afield and to the northeast, is the city of Battleground featuring restaurants, a library, antique shops, and several breweries.
You have to say this is a truly unique Airbnb in Washington State, you can get more details about this rental here.
Gorgeous Kennewick VRBO Is Picture Perfect for Staycation Getaway
Peek inside this amazing Kennewick VRBO that you can rent for a night.
Local Earth Home Popular Airbnb to rent in Richland
This tiny earth house is available to rent in Richland...next year. It's a popular mainstay for your guests when visiting the Tri-Cities.