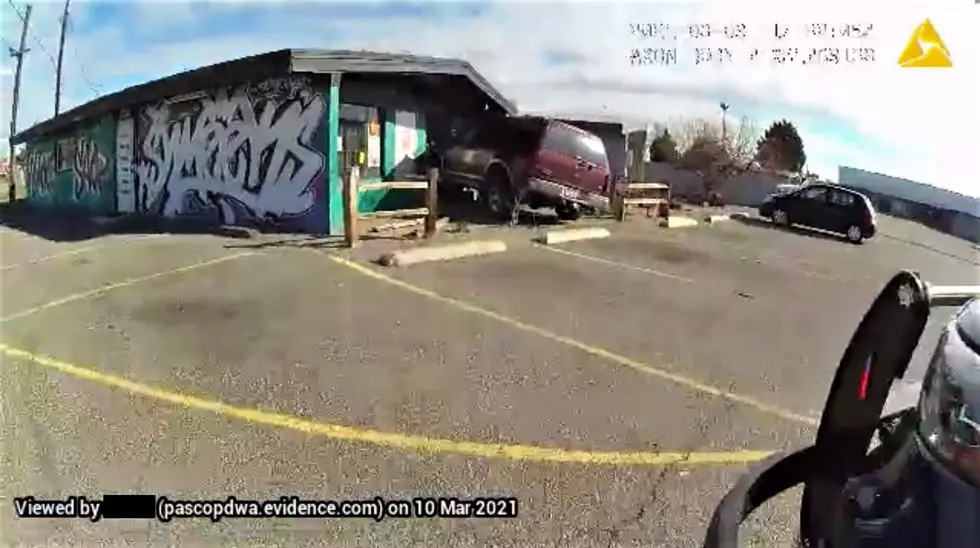 Stuck Gas Pedal Caused Pasco Smeek's Smoke Shop Structure Snafu
Dave Allen
The police in Pasco have released pictures and information regarding Tuesday morning's incident at Smeek's Smoke Shop at Road 28 and Lewis St. in Pasco.
I've had nightmares about a stuck gas pedal overpowering the ability to brake and stop a vehicle. Sweaty palms for sure, once I came to, but if real life adrenaline is anything like dream scares, I hope none of us have to deal with a truly frightening experience like this.
The story begins in the parking lot of Security Mini-Storage, located right across the street from Smeek's Smoke Shop. Due to a stuck gas pedal, a 2001 Ford Expedition SUV accelerated like a proverbial bat out of hell through a chain-link fence, careened through the parking lot of the Tahitian Inn after flattening a tire, then ended the ordeal with a smack into the side of Smeek's Smoke Shop.
Thankfully, the airbags in the vehicle deployed, Smeek's was closed at the time, as it was about 9:25 a.m. Tuesday morning, and no one was injured. Smeek's will remain closed during the time it takes to repair the damage. The woman driver had zero signs of impairment saying her gas pedal got stuck on the carpeting and she was unable to halt the progress of the SUV with the brakes. She was issued a citation by Pasco PD for defective equipment after she exchanged insurance information with Smeek's management.
This is from the Pasco PD Facebook page:
On Tuesday morning at 9:26 AM, officers were sent to Smeek's Smoke Shop at Lewis/ Road 28, where a 2001 Ford Expedition SUV had accelerated suddenly from Security Mini-Storage located across the street, went through a chain-link fence there, across Road 28, flattening one tire, and across The Tahitian Inn parking lot into the front entrance of the smoke shop. The SUV's airbags deployed and the shop was closed; there were no injuries.
The driver of the SUV showed no signs of impairment, and told officers that her gas pedal became stuck on her carpeting, and she was unable to stop the SUV with the brakes. She received an infraction for defective equipment, and her insurance info was supplied to the shop owners, who came over to inspect. The shop will be closed until repairs can be made. 21-06442
Life in Tri-Cities as Told by 12 Stock Photos
LOOK: See the iconic cars that debuted the year you were born