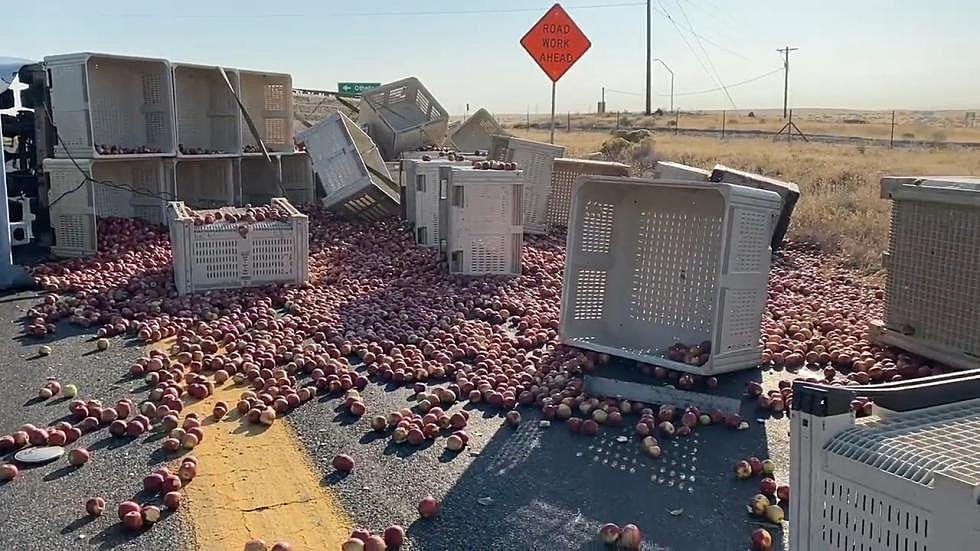 Trucker Loses Load of Apples at SR 240 & SR 24 Wednesday Morning [VIDEO]
WSP Trooper Chris Thorson
Washington State Patrol was quick to the scene after a trucker lost a load of apples Wednesday morning.
It happened at the intersection of SR 240 and SR 24 in Benton County. The semi and trailer overturned with the apples spilling onto the roadway. The minor injury crash closed SR 24 for quite some time. SR 240 is open, however, WSP Trooper Chris Thorson said that "clean-up could take several hours" on SR 24.
Chasing Lewis River Falls Waterfalls at Gifford Pinchot National Forest in WA
View stunning imagery from the upper, middle, and lower falls of the Lewis River Falls in Washington. Visitation to the area has grown over the years and you'll need a permit. You can make your reservation
here
.
Tri-Cities, Washington Restaurants Serving Delicious Breakfast
You know what they say, breakfast is the most important meal of the day. Whether it's eggs, oatmeal, or cereal, it's always best when you can start your day with a balanced meal. Maybe a fluffy omelet, or pancakes, breakfast is most enjoyed with others. But where can you go to get a great breakfast in Tri-Cities, Washington? Let us show you!
25 Missing Children From Washington, Do You Recognize anyone?
It's every parent's nightmare. When children go missing from home, school, anywhere, fear sets in. Who took the child, teen, or adult? What happened? Please take a look at these missing children going back to 1971. One of these kids could be your neighbor, a fellow co-worker, or parishioner. Do you have any information about any of these children?