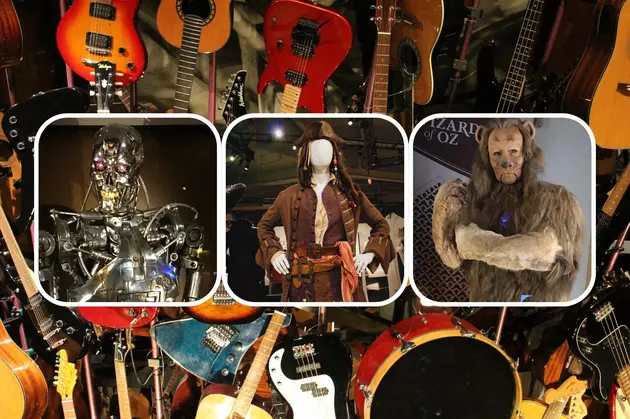 See Why Seattle's MoPOP is a Must-See Museum, Best in the Pacific Northwest
Pete Christensen, Canva
If you're a fan of pop culture or someone who identifies as a nerd, Seattle's Museum of Pop Culture is a no questions asked, must-see attraction.
Pearl Jam Home and Away
New to MoPop since my last visit is the new Pearl Jam exhibit, documenting the history of one of Seattle's most influential bands. Here you can see the backdrop used for the album art of their 1991 seminal album Ten.
Enclosed in this exhibit is the rehearsal setup for Pearl Jam.
Pearl Jam loved this Grammy so much that they donated it to the exhibit.
A "lifesize" Pop Funko of Eddie Vedder.
Eddie Vedder's notebooks used for songwriting and labeled "Not Yours"
Various artifacts include a kickdrum skin and a poster featuring Shawn Kemp of the Seattle Supersonics.
You can see various outfits Eddie Vedder has worn on stage for performances. You can also see he is a very small man.
Remember when MTV used to be relevant and an MTV Award meant something?
The Nirvana exhibit is much more locked away but still worth a peep! We didn't go on our last visit because it was packed.
Infinite Worlds of Science Fiction
Standing proudly is a T-800 endoskeleton from Terminator 2: Judgement Day.
But don't worry, they do have an Arnold Schwarzenegger screen-worn leather jacket from T2, as well as various body props. Terminator 2 was a true blockbuster, improving on the lore and action of the original film.
Fans of the Alien series will be pleased as punch when they run into a screen-used xenomorph.
Seeing a real-life proton pack and trap was the highlight of my daughter's trip. She's been a fan of Ghostbusters since she was two.
If you visited the museum in 2016, you would have seen Luke Skywalker's lightsaber. They still have Darth Vader's lightsaber so not all is lost.
They also housed a Gizmo puppet from Gremlins in 2016.
Fantasy: Worlds of Magic and Myth
To this day you can still view a remarkably well-kept Cowardly Lion costume from 1939's The Wizard of Oz. 
In 2016, you could have seen costumes from The Princess Bride, my wife's favorite movie of all time. Lord of the Rings fans will be glad to know they house various swords and costumes from one of film's best trilogies.
Heroes and Villians: The Art of the Disney Costume
We were able to see this exhibit before it closed in April. There's not much to it, but if you're a fan of some of Disney's films and television shows, you will see costumes you recognize, such as this Jack Sparrow outfit from Pirates of the Caribbean: Dead Man's Chest.
Of course, they had Hector Barbossa too!
Tim Allen's Santa Clause to the left and Nicolas Cage's National Treasure costume to the right.
Plus a Danny DeVito Dumbo costume for scale!
We Are 12
I'm not sure if this exhibit is still open but it was really cool to see these items from the Seattle Seahawks Super Bowl win in person.
Here you can see Pete Carrol's headset, gloves he wore for cold games, and his famous gum.
Plus one of Coach's handwritten speeches.
An exhibit about the Seattle Seahawks would be incomplete without a Super Bowl ring.
So suck it up, buy the additional exhibit passes, and go bonkers at the gift shop. I picked up a Metallica remastered Master of Puppets record, so trust me when I say you won't regret it.
Seattle's Most Luxurious Mansion is Actually Russell Wilson's
After being traded to the Denver Broncos, former Seattle Seahawks quarterback Russell Wilson has listed his Bellevue home for $36 million. The 11,000-square-foot property features a theater, gym, recording studio, dance studio, and a private dock with a view of Seattle.