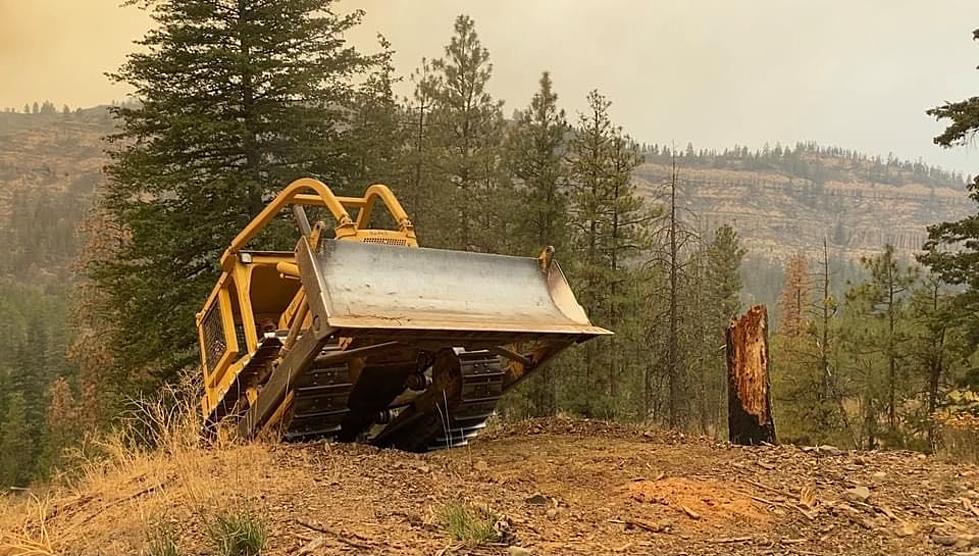 Gusty Winds Hot Days But Firefighters Are Beginning to Win The Battle
Schneider Springs Facebook page
Gusty winds in the forecast for Wednesday didn't grow the Schneider Springs Fire like firefighters had expected and that's good news.
The fire, which started August 3 by a lightning strike grew from 102,742 acres on Wednesday to 102,819 acres Thursday. The fire is now at 26% containment.
FIREFIGHTERS BACKED BY AIR SUPPORT BEAT THE FIRE WEDNESDAY
Officials with the Okanogan-Wenatchee National Forest say firefighters, helicopters and planes focused efforts on beating back the fire that was near Cliffdell, Goose Prairie, and Bumping Lake. Firefighters say they look forward to cooler weather.
A press release says "Thursday Moderate fire behavior is expected near Edgar Rock, American Ridge, and Goose Prairie, with potential for isolated torching. Structure protection personnel, equipment, and air resources are ready to respond. They're using fire to fight fire and firing operations continue on the new fire line northwest of Cliffdell. Creeping fire activity will be monitored on the eastern flank in the Wilderness."
MORE THAN 500 PEOPLE AND EQUIPMENT ARE STILL ON THE FIRE LINES
There's a lot of people and resources on the fire but the number is shrinking. On Monday 671 resources were on the fire. Tuesday the number is 595 which includes;
Crews (8); Engines (36); Dozers (6); Air Resources (7); Other Heavy Equipment (27)
The helicopters dumping water on the fire are based at the Yakima Airport and fly to and from the airport during the day for refueling.
EVACUATION LEVELS AND CLOSURES REMAIN THE SAME
LEVEL 2: Bumping River Road corridor from north to south; Highway 410 corridor from Salmon Cove to Pinecliff; LEVEL 1: Highway 410 corridor from Pinecliff to the junction of U.S. Route 12, and from U.S. 12 at Hwy 410 west to Tieton Reservoir Rd. See map at Yakima Valley Emergency Management: https://www.facebook.com/YakimaCountyOEM . Sign up for alerts at Yakima County geo-specific emergency alert system: https://www.yakimacounty.us/2222/Alert-Yakima
Closures: An area closure for National Forest System lands is in effect. The closure order and map are available at https://inciweb.nwcg.gov/incident/closures/7775/. Campfires are prohibited throughout the Okanogan-Wenatchee National Forest. All Washington Department of Natural Resources managed lands in the fire area are temporarily closed, more at: https://www.dnr.wa.gov/dnr-closure-eastern-2021. A Temporary Flight Restriction (TFR) is in place over the fire area. If You Fly We Can't Fly https://knowbeforeyoufly.org/home.
Firefighters are hoping for full containment by October 1 but the fight continues until that date.
CHECK IT OUT: See the 100 most popular brands in America