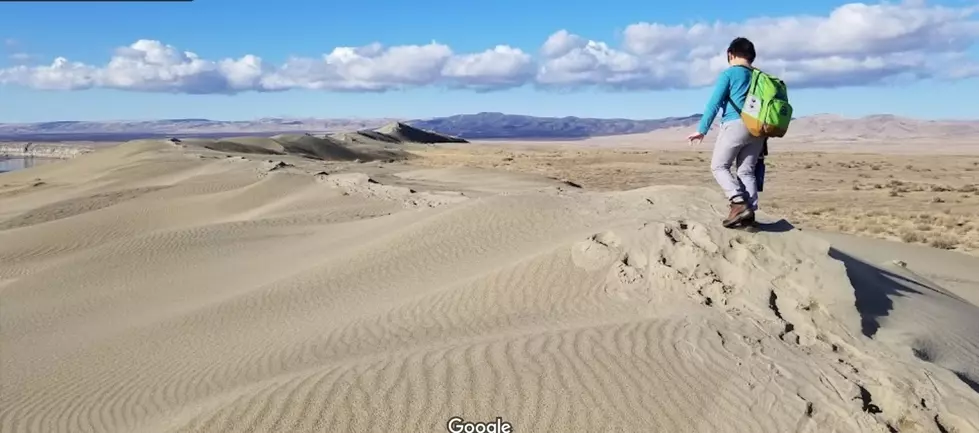 Check Out This Amazing Dune Hike Near Tri-Cities
Google maps screenshot
As the weather gets warmer and the urge to get outside gets stronger many of us rush to hike Badger or Red Mountain trails but there are other less crowded options with just as spectacular views – and you'll feel like you're in a different world.
White Bluffs North Trailhead Near Tri-Cities, Washington
One of the most overlooked and challenging hikes located near the Tri-Cities is White Bluffs North (a.k.a. the Hanford Reach). There are a number of ways to get to the trailhead, whichever way you choose, plan on about an hour's drive.
Once you arrive, there are no signs marking the trailhead or parking area but according to the Washington Trails Association, "they're easy to see on the right side of the road after dropping down the bluff. The trail starts next to a single fence post".  
Once on the trail, you'll walk through shrubs and rocks, and eventually, after 2 miles, you'll run into sand dunes and the trail will disappear. Your shoes will likely get some sand in them and your legs and calves muscles will be engaged, but the views will be spectacular – with an abundance of wildlife native to the area – hawks, eagles, and lizards. And, the rock formations (prehistoric Ringold) are breathtaking.
You will also get a great view of World War II history looking over the Columbia River into the Hanford area. Bring plenty of water and snacks. The Washington Trails Association shows there is a toilet at the trailhead. Happy hiking!
Here's 3 Cool Hikes Near Tri-Cities
Badger and Candy Mountain are the two most popular local hikes, and for good reason, they're close, offer stunning views, easy parking, and they're fairly easy. But, if you're looking to freshen up your hiking experience without having to drive long distances, check out these three ideas, all within 30 minutes of Tri-Cities.
This Hike in the Columbia River Gorge is a Must Experience
The Labyrinth to Coyote Wall Loop. It runs 6.7 miles with an elevation gain of 1,489 feet. It features a waterfall, lava tube, rock formations, and incredible views. It's heavily trafficked with hikers and mountain bikers on weekends and dogs are welcome on a leash. Beware, you'll need good hiking shoes as a good portion of the trail is very rocky. It's open all year round, but the experts recommend day use from March to November.