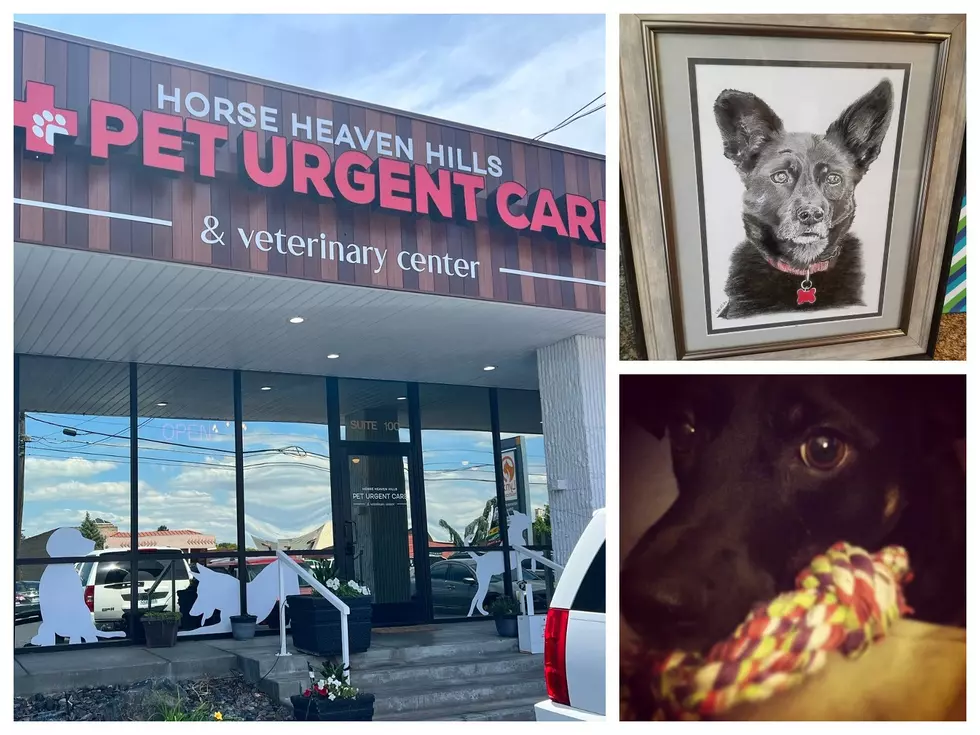 An Open Letter to Kennewick's Horse Heaven Hills Pet Urgent Care
pixlr
I've always resented the fact that when my childhood dog died, my father made me board the school bus like it was any other day. I don't think I've truly ever forgiven him for that. My dad passed away in 2008 but recently I had an incident that took me right back to that fateful day and I was bound and determined not to make the same mistake from childhood.

I've been reading articles that say when your pet gets ready to pass away, you need to stay with them at the veterinarian's office until the end. I don't know about you but death terrifies me in all forms and I didn't think I'd have the courage to stay in the room when we finally had to put our oldest dog Phoebe down.
I haven't had a dog since my childhood because the pain of losing my first dog made me never want to experience that kind of loss again. My wife Megan coaxed me into getting Phoebe after two of our friends divorced and Phoebe had nowhere else to go. I relented even though I knew the day would come that I would have to say goodbye.
For 10 years, we completely fell in love with Phoebe.
Phoebe wasn't the easiest dog to live with. She was an avid escape artist and capable of climbing fences to escape.
Phoebe had an uncanny sense of wanderlust and always was looking to go exploring. She as smart as she was stubborn and could do many tricks our younger dogs couldn't seem to muster.
Sadly, last year we noticed a drastic change in her behavior. She developed dog dementia and the days of ball chasing came to a screeching halt. Phoebe didn't bark anymore nor wag her tail and she would spend her days wandering in a circle and a haze.
After losing nearly 15 pounds and several health checks to Horse Heaven Hills Pet Urgent Care over the last year, we made the painstakingly tough choice of having to say goodbye to the matriarch of our dog pack.
I didn't want to be in the room when we said goodbye to her but I knew I had to do it so we made a call to Horse Heaven Hills Pet Urgent Care and said we were ready for Phoebe to be set free from her pain.
I didn't know what to expect but the staff at Horse Heavens Hill made all the arrangements.
We arrived Thursday morning at 11 AM and they had a private entrance different than their front lobby. It was surprisingly quiet.
We then went into a room that resembled a living room and we then waited a few minutes before a vet assistant came back to take about the procedure.
She explained everything and said that she was going to put Phoebe into a deep sleep. She gave Phoebe a bowl of cookies which Phoebe quickly gobbled down and by the time she ate the last cookie, she was out like a light, snoring away.
I wanted to leave right now as Phoebe slept peacefully but I stayed and kissed her on her forehead. I used up all the tissues in the room and the Veterinarian came in the room to check on Phoebe.
Our doctor was quite comforting and said that whenever we were ready, she'd inject the solution that would stop Phoebe's heart.
After we said our goodbyes, the doctor gently went to work and within two to three minutes she checked her heartbeat and said "she's gone".
It was one of the hardest days of my life in recent years but I wanted to take a brief moment and thank the staff at Horse Heavens Hills Pet Urgent Care.
They allowed us to say goodbye to Phoebe in a safe and humane way. I don't think I've experienced anything like this process before and it was an eye-opener to say the least.
I know there are a ton of fantastic veterinarian practices in the Tri-Cities and lots of animal lovers in our community but I wanted to take a brief moment and acknowledge one place in the Tri-Cities that was there when my family and our pet needed them.
Thank you Horse Heavens Hills Pet Urgent Care
RANKED: Here Are the 63 Smartest Dog Breeds
Does your loyal pup's breed make the list? Read on to see if you'll be bragging to the neighbors about your dog's intellectual prowess the next time you take your fur baby out for a walk. Don't worry: Even if your dog's breed doesn't land on the list, that doesn't mean he's not a good boy--some traits simply can't be measured.
LOOK: The least obedient dog breeds