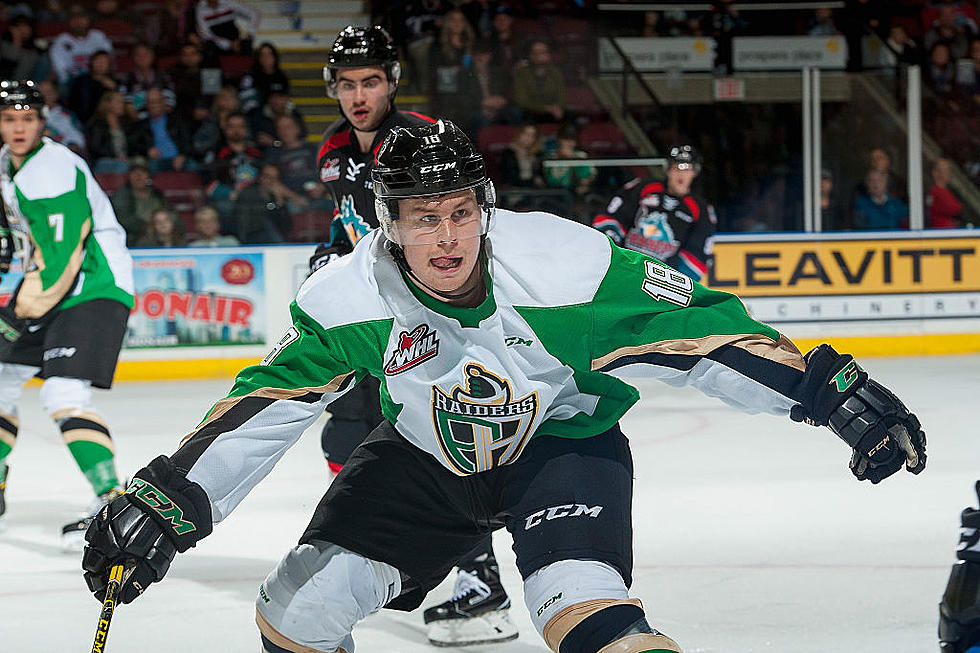 WHL 'Apologizes' for Raiders "Offensive" Third Jersey –See Pic Inside
Team's third jersey gets pulled--Getty Images
Another prime example of political correctness? Or is it warranted? Is it history being re-written?
You decide.
The Western Hockey League has issued an apology over what they call an "offensive" jersey sported by the Prince Albert Raiders that was unveiled just recently.
Here's the jersey:
The character on the front stems from a jersey that was worn from 1982 to 1996, then the team redesigned their logo in 2014, a new mascot. This Arabic-looking character was moved to shoulder patches, then this year became the subject of the "third" jersey.
Third jerseys are special uniforms worn by teams on special occasions. You may recall the Americans third jersey, the slightly off white garb inspired by a U.S. National team many years ago.
Spokane has had a blue jersey, their third besides the red and white.
Well, Prince Albert ran into a storm of controversy over this one. The WHL statement read in part:
"We recognize the dated design is insensitive and offensive. After consultation with the Prince Albert Raiders, this uniform and brand will be discontinued effective immediately,"
The jersey was to commemorate a very successful era in team history, but special interest groups said it was offensive to Middle Eastern ethnic groups. It is not known if the jersey was around long enough to be produced for any consumer or fan purchases.
You will also notice, closer to our neck of the woods, the Portland Winterhawks have redesigned their logo, gone is the familiar Native American Chief profile, replaced by a hawk that looks all too similar to older Americans uniforms.
So, is the Raiders third jersey OK, or offensive? Given the political culture in Canada, we're not surprised this happened...the controversy.
  Due to WHL and CHL covid restrictions, we won't be seeing any of the Raider's unique Black, Green, Yellow and White this season, the U.S. Division is only playing against the B.C. Division beside themselves. 
CHECK IT OUT: 100 sports records and the stories behind them