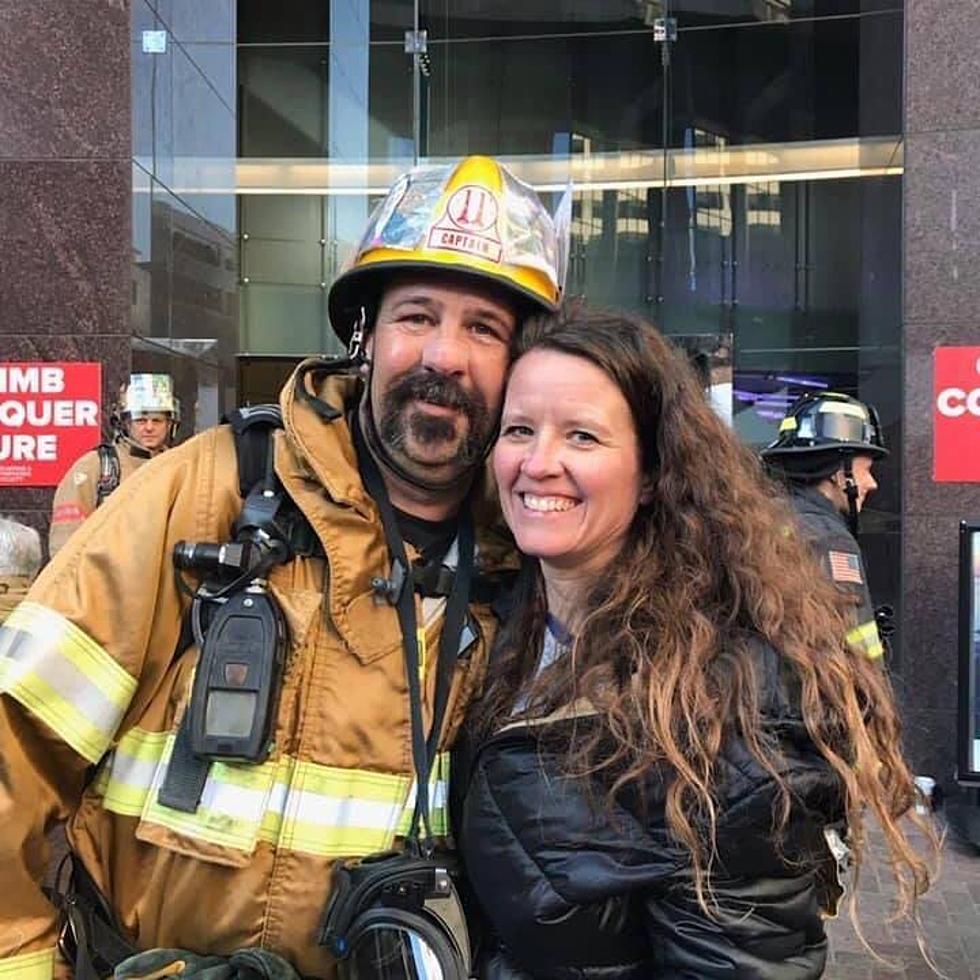 Tri-Cities Firefighter Takes His Final Climb
Teddy & Damon Bryan Firefighter Stairclimb
It is just instinct and human nature to run OUT of a building if it were engulfed in flames, however, firefighters do the exact opposite! Running into a burning building is just another day at the office for these brave men and women. Being heroic is just what they do, but you don't have to run into a burning building to be a hero, there are many ways to save lives! Saving a life is saving a life and my friend Damon Bryan, of Benton City, is a hero in a few different ways. Not only is he a dedicated firefighter, but he is a firefighter who has taken part in the LLS Firefighter Stairclimb for the past six years. Damon helps save lives by raising money in the fight against Leukemia & Lymphoma. Damon is scheduled to retire before this year's Stairclimb but still plans to participate and make this his last climb! This will be his seventh and final year and we want to help him go out (or up) with a bang!
March 12, 2023 is the 32nd annual LLS Firefighter Stairclimb in Seattle. The climb will be held at the Columbia Center Building, which is the tallest building west of the Mississippi! With 69 flights of stairs and 1,356 steps to reach the top, Damon will be in full gear and climbing for a cure! Each participant raises money, and so far (over the past 6, almost 7 years) Damon has raised an astounding $64729.97, hoping to reach his goal of $75000.00! If you would like to help Damon reach his goal you can click
HERE
.
Damon, we would like to wish you (and all the Firefighters) absolute success on this day, and we thank you for your years of dedication and service! Enjoy retirement, you earned it!
Damon shares his personal experience on Facebook and writes:
69 Flights I 1,356 Steps I 788 Ft. Vertical Elevation

Hello! I will be participating in the LLS Firefighter Stairclimb in support of The Leukemia and Lymphoma Society (LLS) for the last time as I am preparing to retire from the fire service. This will be the 7th and final year of me coming to my friends and family to support this incredible cause. In the past 6 years of climbing I have been able to raise $64729.97 all thanks to the friends, family and the incredible citizens of the City of Richland! I would love to finish strong and hit a 7 year total of $75,000.00! That sets my goal for this year at $10270.03! This will be my last ask for this event as I am planning on retiring before the next climb. Please consider helping me out to achieve my goal!

As this is my final climb, I will be supported by an incredible friend and mentor, Fire Chief Grant Baynes (retired). Grant will be climbing along side me, or more than most likely in front of me, and carrying my gear back down the tower as I did for him in 2015, all in memory of my Father Captain Charlie Bryan who passed in October 2002. We will be out at various locations in Richland collecting donations, please come out and see us or hit the

DONATE NOW

button.

Thank you all for your continued support to this remarkable cause! Find a cure!!!!

What is the LLS Firefighter Stairclimb?

The LLS Firefighter Stairclimb is the world's largest on-air stair climb competition, and annual fundraiser held at the tallest building in town, the Columbia Center. All 2,000 participants are career, volunteer, or retired firefighters who will climb up the second tallest skyscraper west of the Mississippi in full turnout gear, weighing over 60 pounds, while on-air. Throughout this grueling course, we all remember that every step forward is representative of moving closer to a cure. Although this is an extreme test of physical endurance, it pales in comparison to what blood cancer patients endure. All proceeds raised directly benefit The Leukemia and Lymphoma Society, and since its inception in 1991, this event has raised over $22 million thus far.

Thank you for your time, consideration, and sincere generosity in this cause worth climbing for.
Here's 3 Cool Hikes Near Tri-Cities
Badger and Candy Mountain are the two most popular local hikes, and for good reason, they're close, offer stunning views, easy parking, and they're fairly easy. But, if you're looking to freshen up your hiking experience without having to drive long distances, check out these three ideas, all within 30 minutes of Tri-Cities.