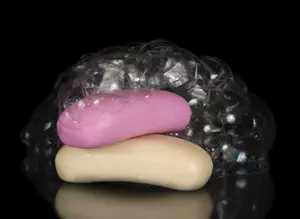 Pasco Grandma Busted Using Soap To Hide Drugs in Jail
Laboko
An elderly woman has been arrested for allegedly using soap to smuggle drugs into the Franklin County Jail.
According to reports, Rosa Castillo-Rodriguez, 75, hollowed-out bars of soap and attempted to smuggle drugs into the Franklin County Jail for an inmate.
Authorities got suspicious of the soap and turned them over to detectives that discovered the ruse.
Rodriguez was then arrested on suspicion of the introduction of contraband into a corrections facility and possession of a legend drug with intent to distribute.
I've heard stories about the file in the birthday cake but this one takes the cake for sure. It got me thinking about all the other things people have tried smuggling into prisons.
I did a quick search and discovered various news stories of what people have tried to smuggle in and out of prison and it's crazy.
One woman tried to smuggle her husband out in a suitcase while another inmate tried to smuggle a gun into prison hidden in their fat rolls. I also saw a story where a family melted drugs into a kids coloring book and a story about a man who put a gun up his rectum (OUCH!)
There are several crazier stories out there that make our Pasco Grandma drug smuggler seem pretty tame.
You can read more details about the case here.
Enter your number to get our free mobile app
Lizzie Borden's Maplecroft Is Back on the Market in Fall River, Massachusetts