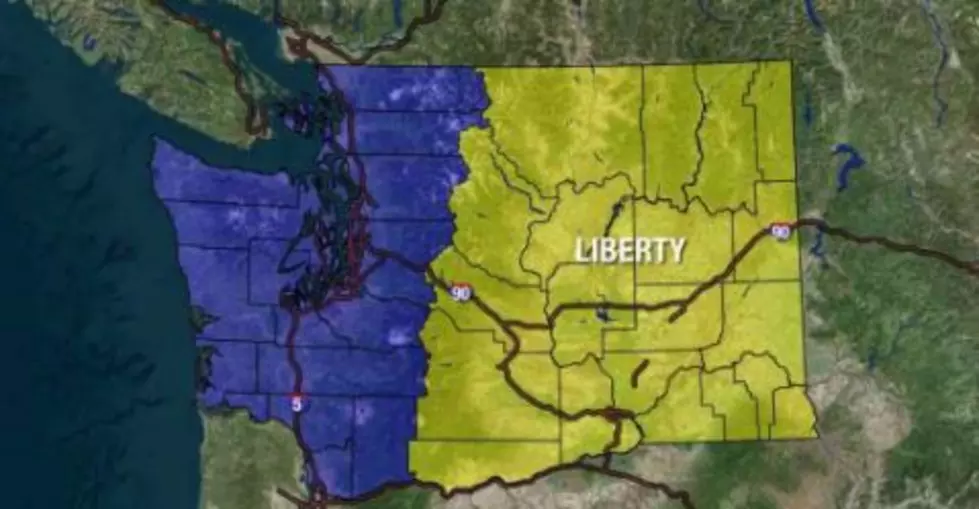 Liberty (51st) State Proposal Has Twice The Support in 2021
Liberty state map (libertystate.org)
No idea how far this will go, but it's definitely picked up some momentum.
Over the years, the idea of splitting Washington state in half, or down the Cascades, and creating a new state of "Liberty" has been introduced by one GOP legislator.
Last year, two supported the measure. Now, there are four.
Tom Dent along with Republicans Rob Chase, Bob McCaslin, and Robert Sutherland are fully behind the legislation. Dent is a House Rep from Moses Lake. The plan would split the state down the 'spine' of the Cascades, and it would most likely be called Liberty.
The measure now has twice as much support this year as it did last, from 2 to 4 legislators. Word is, a number of others are leaning that way as well.
The Liberty state idea, according to the proposal's website, has had favorable reaction in Eastern WA:
"In an online survey by KXLY (news agency in Spokane), 73% of a group of over 8,000 participants approved of creating Liberty State. A second poll conducted later revealed 75% of over 1,600 participants were in favor of Liberty State. In spring of 2019, a Facebook poll conducted by KAPP-KVEW in Tri-Cities and Yakima demonstrated a 71% approval among over 12,000 participants. That's over 21,000 people weighing in with over 70% support. If you know anything about public polling, those are amazingly high numbers.
The COVID-19 crisis and every new tax, regulation, and heavy-handed measure feeds that support. With the recent passage of the largest state budget ever in Washington History, voters are ready for a new state."---from libertystate.org.
It would require passage in the legislature, then voters, then Congress. But it's a lot further along than it was a few years ago.
Not much has been heard the last few months, but in 2020 Douglas County, OR was trying to secede and join Idaho, and now Weld County in Colorado is trying to join Wyoming, so this Liberty state idea is not unusual or isolated.
Here's another view of the State of Liberty, in red and blue, from I-Fiber One, and en.wikipedia.