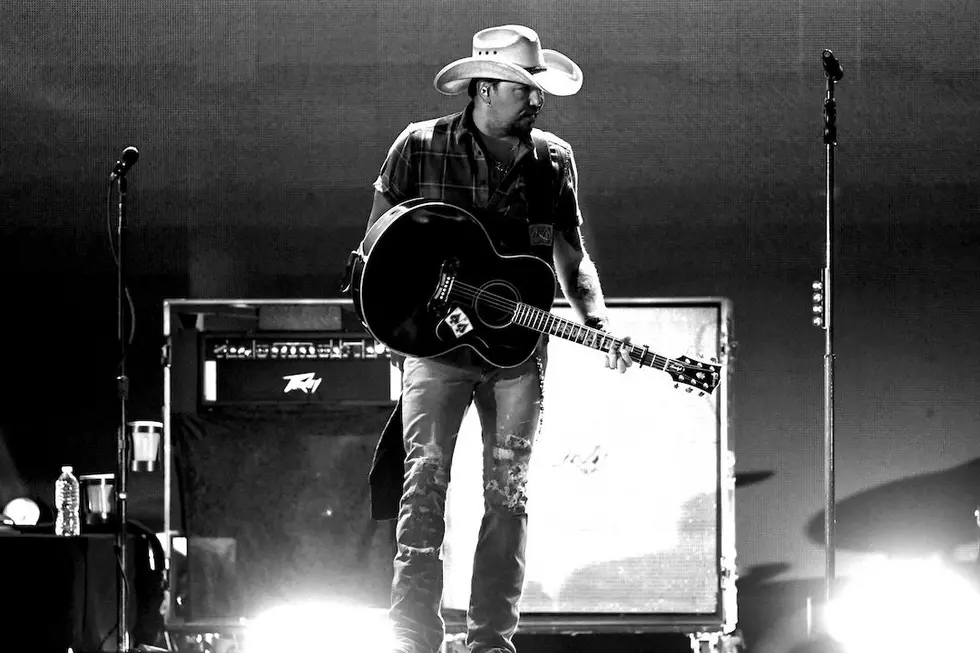 Everything We Know About Jason Aldean's New Album, '9'
Kevin Winter, Getty Images
ACM Artist of the Decade Jason Aldean is capping off the 2010s with his aptly titled ninth studio album, 9. In early September, the singer officially announced the new project, and released its leading single, "We Back."
If 9's first release to country radio is any indication, Aldean will continue blending his twangy country vocals with hard rock brawn and hip-hop swagger. As the singer indicates in a press release, his new song is a return to the bangers that first introduced him to fans back in his early days as a rising artist.
Read on to learn what we know so far about 9.
The Title
Long before he plotted his huge Sept. 9, 2019 (9/9/19) announcement, Aldean knew he'd turn to the old Led Zeppelin system of numbering albums once it came time to name his ninth career album.
"Early on I always thought if we ever got to make nine albums, I'm going to call it 9. It was my baseball number growing up, and it's just kind of always been my lucky number," explains Aldean in a press release. "I remember cutting the first album and thinking, 'That's forever away,' and now here we are. I don't know, it's really special we made it this far – so, it's more for me than anybody else – but, it means a lot."
The Release Date
Aldean's ninth album arrives on Nov. 22, upping the hype for a month that began with the Nov. 1 release of fellow decade-defining star Miranda Lambert's Wildcard.
The Record Label
Aldean remains with the label responsible for his previous eight albums, Broken Bow Records.
The Producer
Just like Broken Bow Records, producer Michael Knox is a constant presence in Aldean's career. Knox discovered Aldean and has produced all nine of his albums.
The Album Cover
Aldean's newest album cover captures his usual look and graphic design aesthetic. No need to change what's worked for 15 years, right?
The Single
As mentioned before, Aldean's statement of musical purpose, "We Back," lives up to its name by letting fans know that Aldean and his band continue riding high as genre defiant hitmakers.
"When I came into country music and made my mark, it was with a banger," Aldean adds. "But we haven't put out a lot of that stuff over the last couple years. So we got this song and to me it just says what it says: 'Thought we were gone, but you're wrong – now it's on.'"
The Songs
Three other songs hit digital streaming platforms at the same time as "We Back." "Blame It on You" shows younger whiskey- and tequila-crazed singers how radio country's done; "I Don't Drink Anymore" sees Aldean joining neo-traditionalist artists such as Jon Pardi in celebrating the genre's roots; and snap-along pop-country about hometown memories makes a comeback with "Keeping It Small Town."
On Sept. 27, Aldean revealed that the project has 16 tracks, and that he hopes that every single one packs a punch. "People buy albums with eight songs for 10 bucks now, but with 9, it's like you're getting two whole albums at once," he says in a press release. "I want fans to feel like they're getting more than they bargained for, and I want it to be something they listen to from top to bottom, and never hit skip ... or thumbs down, or whatever."
Jason Aldean, 9 Tracklist:
1. "Tattoos and Tequila" (Michael Dulaney, Neil Thrasher)
2. "Blame It on You" (Kurt Allison, John Edwards, Tully Kennedy, Michael Tyler, Brian White)
3. "Champagne Town" (Matt Dragstrem, Josh Thompson)
4. "Some Things You Don't Forget" (Nick Brophy, Michael Dulaney, Jennifer Hanson, Neil Thrasher)
5. "Got What I Got" (Thomas Archer, Alex Palmer, Michael Tyler)
6. "Keeping It Small Town" (Jaron Boyer, Ben Hayslip, Morgan Wallen)
7. "Camouflage Hat" (Ben Hayslip, Jameson Rodgers, Josh Thompson)
8. "Came Here to Drink" (Jaron Boyer, Alex Palmer, Michael Tyler)
9. "We Back" (Tyler Hubbard, Jordan Schmidt, Brad Warren, Brett Warren)
10. "Dirt We Were Raised On" (Rhett Akins, Jaron Boyer, Josh Thompson)
11. "I Don't Drink Anymore" (Kelly Lovelace, CJ Solar, Neil Thrasher)
12. "Cowboy Killer" (Jaron Boyer, Josh Hoge, Michael Tyler)
13. "One for the Road" (Lynn Hutton, Brandon Kinney, Josh Thompson)
14. "Talk About Georgia" (Kurt Allison, Tully Kennedy, Michael Tyler)
15. "The Same Way" (Brock Berryhill, Brantley Gilbert, Cole Taylor)
16. "She Likes It" (Jaron Boyer, Ben Stennis, Michael Tyler)
The Tour
Aldean will surely tour heavily for 9, but his first major dates after Nov. 22 represent something way bigger than an album cycle. On Dec. 6-8, he plays Las Vegas as a headliner for the first time since the Oct. 1, 2017 mass shooting at the Route 91 Harvest Music Festival. The Ride All Night Vegas residency will be hosted at Park Theater at Park MGM.
"I've wanted to bring our show back to Vegas for a while now, and the timing feels right," said Aldean in a press release. "We're going to pack up the show, set it up for a couple days and hang out with our Vegas family. I'm looking forward to being back."
Do Y'all Know These 10 Facts About Jason Aldean?
Test Your Jason Aldean Knowledge!