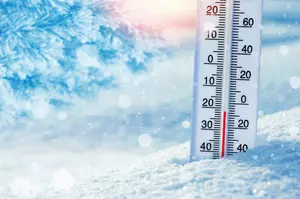 Is The Snow Hype Real? Here Are The Odds We Get Snow
Ikan_Leonid
Could we get snow next week right before Thanksgiving in the Tri-Cities? Some folks think the Yakima Valley will get snow next week but what about the Tri-Cities?
Our good weather friends and experts Monty Webb from KNDU-TV and Mark Ingalls from Tri-Cities Weather don't think you should be jumping on the snow hype train just yet.
Our first expert Monty Webb explained it on his Facebook page:
You may have heard by now there is a chance for snow next Tuesday (Nov. 26), but before you get excited here are 4 things you need to know...

Possible Snow Maker (Late Tuesday-Wednesday)
1. This Storm has not formed
2. Track is unknown
3. A lot can happen between now and next Tuesday
4. Weather models do poorly on snow forecasts this far out

Alright with that said, here's my best guess… Right now, it appears the system will move onshore and track across southern OR late Tuesday-Wednesday morning with snow levels dropping to around 1,000 ft. The best chance for accumulating snow will be in the southern WA Cascades/East Slopes and OR Cascades. Then east across central/southern OR and north into the Blues. It looks like most of the precipitation for WA will be along and south of I-82 and should fall mainly as rain, but we could see a little wet snow mixing in at times Tuesday night-Wednesday morning.
You can check Monty's forecast here. Mark Ingalls of Tri-Cities Weather shares his prediction as well:
Tuesday, the higher elevations are looking to have the best chances of snow, with rain in the Columbia Basin. At the moment, the best chances of snow in the Columbia Basin is early Wednesday morning, where snow levels will drop to 1000 feet and below.
You can check out more on Mark Ingall's forecasts here.
There are predictions and anything could change but right now looks like the Columbia Basin will have to settle for rain next week but if you are traveling in the higher elevations, snow is very possible so drive careful and always be prepared.