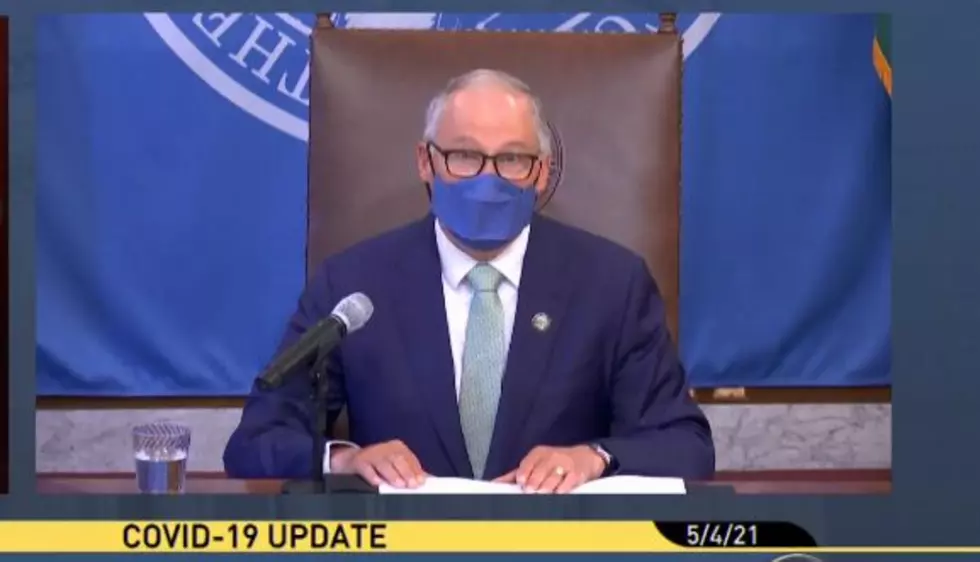 Inslee: Entire State on 2 Week Pause, No Counties Go Backwards
Inslee keeps state on 2 week pause (TVW)
Gov. Jay Inslee announced Tuesday May 4 that no counties will be required to move backwards from Phase 3 to Phase 2, but did say one county chose to move themselves back.
Inslee called it leadership, and a standup thing to do, in Ferry County moving themselves backwards. The local health board chose to do so. He blamed it on a "super spreader" event; a thinly disguised swipe at a conservative political event in Republic.
Inslee said all counties will remain in Phase 3, while officials evaluate conditions and rates. Inslee claimed rates in the last week, perhaps ten days, rates are plateauing, perhaps even moving downward slightly.
Inslee said the state's economy is showing signs of recovery and said the decision was made in part by consulting with the Department of Health and other officials.
It's noted that King County was well over the Phase 2 required metrics to move backwards, but they did not. King County Health Department Director Jeffrey Duchin said vaccines were key to keep the state's most populated county in 3.
Inslee said 54% of WA residents have received at least one dose of a vaccine, 38% are fully vaccinated. Reportedly 5.5 million doses of vaccines have been administered.
Duchin and Inslee both pushed hard on getting the vaccines,  Inslee saying this is not a "pause on our vaccines," but need to ramp it up.
Inslee also lectured business owners and leaders about following Phase 3 requirements, complying with the Phase 3 50% requirements. He said they take these protocols "very seriously."  He said the state has issued about $7.3 million in fines, sounding very authoritarian.
Inslee and other officials also said they were concerned about the slowing vaccination rates, he and other officials said vaccines are our pathway towards more normal conditions.
Inslee did NOT directly address his 'perks program,' where Monday he announced there will be vaccinated sections in public sports, entertainment, and arts events.
Apparently, there will be opportunities for vaccinated persons that will not be offered to those who have not received a vaccine.  There are numerous calls that this is discriminatory; some even say it violates HIPPA Laws.
After listening to a number of reporters questions, none of the limited press asked him about it either.
Inslee said vaccination rates will be tied to whether the state will start allowing more local, or county control.  He and Dr. Duchin didn't hesitate to 'trash' other state's approach to COVID-19, claiming their methods are working better.
KEEP READING: See states hit hardest by COVID-19's impact on tourism