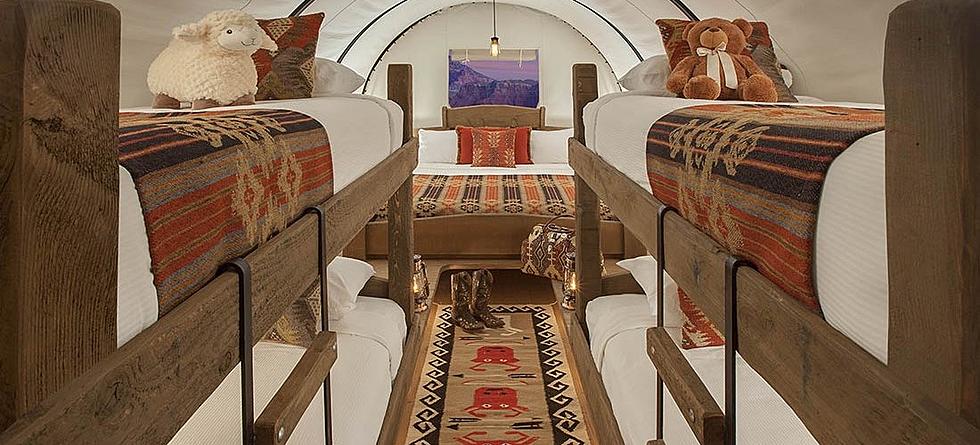 Glamp It Like the Old West in These Washington Wagon Rentals
credit: koa.com
1883 is all the rage on streaming and if you really want to rough it like the Oregon Trail days, you might want to visit these awesome covered wagons that you can stay in for a night in Washington State.

You Can Rent A Covered Wagon For A Night In Washington State
The good news is you can skip out on dysentery and enjoy glamping it up at this Washington State campground.
You can rent a covered wagon and act out the old west in Winthrop, Washington.
There Are Several Cabins, Tents Sites, And A Covered Wagon To Pick From At KOA
The KOA website at Winthrop lists the wagon as such:
Come and enjoy staying in western-themed Winthrop under the canvas of a deluxe Conestoga wagon. This wagon comes equipped with 1 set of bunks, a king bed, a large table, 4 outlets (with USB ports), and A/C (no bathroom).
The Winthrop KOA campsite features two different Conestoga wagons to pick from.
One wagon sleeps up to 4 people while the other wagon is deluxe accommodations with up to six people.
The only drawback of these wagon rentals is no pets allowed so no Bessie the cow and Scout the horse allowed at these wagons but several others sites on the property take animals for a fee.
What Is There To See In Winthrop, Washington?
If you've been looking for a unique experience that simulates the old west with a glamping flare, these wagons just might fit the bill for - talk about a cool adventure and if you wander into Winthrop, the entire town has a western motif and it's become quite the tourist attraction due to all the murals and attractions.
You can learn more about these covered wagon rentals and this property here.
Top 10-Tri-Cities Campgrounds
10 Best Campgrounds in the Tri-Cities
Here's 3 Cool Hikes Near Tri-Cities
Badger and Candy Mountain are the two most popular local hikes, and for good reason, they're close, offer stunning views, easy parking, and they're fairly easy. But, if you're looking to freshen up your hiking experience without having to drive long distances, check out these three ideas, all within 30 minutes of Tri-Cities.