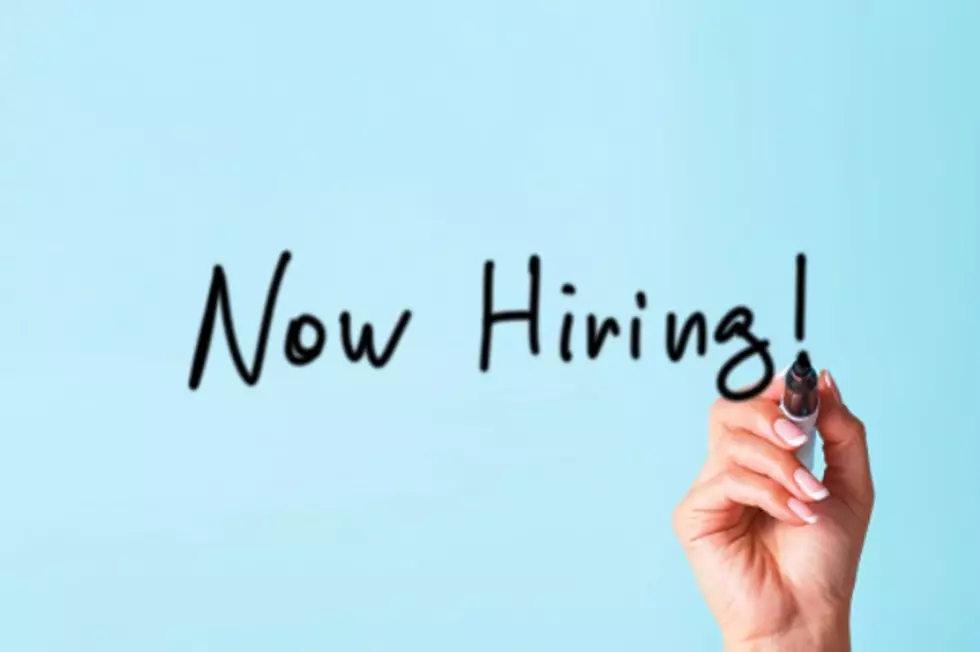 Get To Work Tri-Cities… This Week's New Job Postings!
Andrey Bukreev
Spring is here and is the perfect time to start something new...here are the latest job openings this week...Thanks to Ed Dailey and the students of Tri Tech
Mechanic Needed - RV Supply Specialties and Repair is looking for a Mechanic to help in the shop. Please come in and apply at 5101 W Van Giesen in West Richland. You can also email us your resume at rv_supply@hotmail.com
………………………………..
Pallet Services Inc. is currently looking to add an additional bandsaw operator position at our Pasco, WA facility. This vital position is responsible for the safe and efficient tear down of unwanted pallets. These pallet components will then be used in the repair process of repairable pallets. This position requires the ability to do repetitive work, constant standing, and the ability to lift 75lbs or more repeatedly throughout the day. This is an extremely physically demanding job. We are looking for someone who will work very hard.
Please click on the link for a demonstration of what you would be doing: https://www.youtube.com/watch?v=qFHs75--eEM
Position will pay $15.00-$18.00/hr. DOE. We offer great benefits such as PTO, insurance, and 401k.
Please bring a resume in to the Pasco office at 1430 N Glade Rd Pasco, WA to be considered for the position.
We are a great company to work for and we look forward to meeting you!
EOE
……………………………………….
Copenhaver Construction Inc. is seeking a heavy equipment operator in the Eastern Washington area. The base of operations is in the Creston area in Lincoln County WA. We are a heavy civil contractor and aggregates manufacturer that mainly works in Eastern Washington. We are looking for someone that has the ability to hop in the seat and go. The person for this position must be willing to travel where the work takes us. A high school diploma or GED is Required. This is a full time position, with great potential for overtime. Respondents seeking part time work will be considered.
Responsibilities: Maintaining a good attitude. Operate some or all of the following heavy equipment in a safe and professional manner: Dozer, Loader, Excavator, Motor Grader, Scraper, Haul Truck, Backhoe, Hydraulic Crane, Skid Steer, Mini Excavator, Cone and Jaw Crushers, Screen Plants. Report to work consistently and punctually. Inspect equipment for deficiencies and regular wear parts. Recognize and report mechanical problems to foreman and shop manager. Produce and maintain accurate records for equipment hours, task hours, weights, load counts, maintenance schedules, etc. to be turned in to supervisor.
Abilities Required: Able to operate for extended hours. Able to fuel and lube equipment. Able to complete equipment inspections. Able to lift 50lbs regularly. Able to work well independently or within assigned crew. Able to do generally light maintenance on equipment ( Greasing, Oil and Filter Changes, Washing). Able to clearly communicate between coworkers and foreman/superintendents to remain productive
Characteristics NOT required but a Plus: High voltage electrical experience. GPS Machine Control experience. Understands grade staking. Class A CDL. Ability to maintain and repair equipment. Desire to fill other positions as company priorities change.
Qualifications: HS Diploma or GED, Minimum of 7 Years Operating Experience, Reliable Transportation to Varying Job Sites, Must Pass Background Check and Drug Screen.
We are an EOE and offer a competitive benefit package including health, dental, and vision insurance along with a 401K offering.
Resumes are welcome, blank applications will be emailed upon request.
Copenhaver Construction Inc. Creston, WA call 509-636 2800 for more details.
………………………………………..
A diversified family farm in the Walla Walla Valley is seeking a full-time accounting and administrative assistant to start immediately. This position is located in a professional office setting at the farm headquarters two miles south of the state line in Oregon.
Job duties include, but are not limited to: •Front office public relations and management, •Analysis and entering of accounting data and related functions, •Processing accounts payable, accounts receivable, payroll & production data, •Assisting in the preparation of regular landowner reports, and •Administering limited personnel and human resources tasks.
Candidates must have previous, successful experience in a range of these skills as well as strong proficiency with computers and particularly Microsoft Excel. They must also have a capacity to learn and utilize a cost accounting database system. Previous background in agriculture is preferred and experience with spreadsheets and accounting software is required. The position requires strong organizational skills, attention to details, flexibility to work on many ongoing projects, capability of interacting with vendors and online procurement, and the ability to interact cooperatively with team members and management. The position has potential to grow with time and as skills progress. Competitive compensation and benefits are available.
H.T. Rea Farming is a fourth-generation family owned and operated farm in the Walla Walla Valley specializing in the production of various grain crops, vegetables and certified seed. Headquartered in Milton-Freewater, Oregon, the farm cares for farm properties in both Washington and Oregon.
Please send us your resume and also go to our website at www.htreafarms.com/employment to find a downloadable job application. Please send us completed job applications by email.
We are an Equal Employment Opportunity Employer.
…………………………………………….
BECOME PART OF OUR AWESOME TEAM !!!!!! Birch's Lawn Care is a local family and veteran owned Lawn Care Service. Our success is a by-product of providing high-quality service with a focus on safer products and providing better results. We are currently looking for individuals with a passion to succeed, a desire to grow within a company, and those that can bring a confident and successful attitude.
Responsibilities–•Performing applications of fertilizer/weed control •Mowing, Trimming, Edging (Stick edger and string edge) •Aerating •Thatching / Power Raking •Providing a high level of customer service
Requirements–•Valid driver's license and GOOD driving record is a MUST! • Ability to lift up to 70lbs •Ability to be coached and a desire to learn •Mechanical aptitude •Ability to pass the pesticide test
*Experience in the industry is preferred, but not required.
Job Type: Full-time Seasonal ( we do try and work as late into the season as possible , Snow work may be available) Salary: $13.50 /hour
Visit www.BirchsLawnCare.com and fill out an application TODAY!!!!!
……………………………………..
Looking for a housekeeper to join our team! This will be a full time position, and we will be looking for people who enjoy providing great customer service and preferably with experience! Please contact us about the positions, apply in person at 2724 W Lewis St. in Pasco WA. We prefer people willing to walk in to speak to us about this opportunity, and we look forward to meeting you!
………………………………………….
Bunnell Family Cellar & Wine O' Clock (Prosser, WA) Looking for a fine dining server, experience preferred but not required ,wine knowledge a plus. Drop resume off to 548 Cabernet Ct. Prosser, WA
……………………………………………
Cedars Restaurant is looking for a full or part time dishwasher. Someone that would like to train for other higher pay positions. Position is afternoons and evenings. Apply in person, after 2:00 PM, east lounge entrance. 355 Clover Island Drive, Kennewick
…………………………………………..
NOW HIRING Integrity Towing & Services LLC (P&K Tri-city Towing) Looking for an individual with a clean driving record, able to pass State criminal background, as well as dot physical and drug screen. Be motivated with attention to detail, willing to work nights and weekends and odd hours, good people skills, the desire to help people in need and pride in your equipment! Pay DOE but will train the right person. Apply in person. Accepting Applications thru 4-23-19 interviews on 4-26-2019 Family owned and operated. 502 Wellsian Way Richland Wa 99352
………………………………………….
Handyman/Apartment Maintenance $2,400 per month (Richland) - Full Time M-F, 8:30-5:00. Must have reliable transportation. Experience required, must be able to paint, repair and replace plumbing, appliance repair/replace, sprinkler repair, snow removal, anything associated with maintaining and rehab of apartment units. Duties also include anything per manager's instruction. Must have a clean criminal record. Apply M-F 10:00 A.M. to 5:00 P.M. Call Mike @ 509/981-0774 or Bob @ 509/981-0774
…………………………………………
If you or you know someone looking for a caregiving job. Amazing Grace Home, adult family home is looking for weekend caregivers 7am to 7pm, 7pm to 7am and m-f 11-7am need to have current Hca or CAN, Cpr and 1st aid, Food handlers, Rn delegation, Rn delegation diabetic, Be able to pass a background check. Please come fill out an application at 2211 road 80th Pasco wa
………………………………………….
Atomic Ale 1015 Lee Blvd Richland, is looking for part-time/full-time line cooks to join our team. Check out our website to see our menu! Please apply in person! Hourly wages will be determined by experience.
………………………………………….
The Kitchen at Barnard Griffin is located in Richland, Washington and the heart of the Tri-Cities wine industry. We are seeking a busser / dish machine operator to add to our team. This position would report to our Restaurant Manager and will be trained in many aspects of the front of house and back of house. Our restaurant focuses on artisan dishes prepared with fresh ingredients that are expertly paired with the wines produced by Barnard Griffin. We have a small and efficient team that we are looking to expand to meet the demands of our continually growing business.
Expectations:-Excellent customer service skills-Must work well independently-Responsible for clearing and bussing tables, refilling beverages and washing dishes-Expected to keep supplies stocked and general areas clean-May be required to assist service staff by greeting guests and taking beverage orders-Depending on skill set, would also assist with food prep and stocking -Expected to keep a clean working environment-Required to comply with all safety regulations and rules
Qualifications-Must have or obtain a WA Food Worker Card upon hire
To be considered for this position, please visit the Kitchen at Barnard Griffin Tuesday – Saturday between 12:00 and 7:00 pm and ask for Shawn.
………………………………………..
NW Marine and Sport, the region's largest boat dealer, is looking for qualified boat mechanics or technicians that want to grow with us. We are looking for either a qualified tech. with certifications or for an up and coming technician who wants to learn about boats. NW Marine is a full service facility with common jobs of motor repairs, outdrive work, electronics installation, all facets of trailer repairs and anything else related to boats. We are a dealer of Honda, Yamaha and Mercury outboards. We carry NW Boats, Weldcraft, Hewescraft and Smokercraft boats. We are willing to train the right person to do the job. We offer a competitive wage, medical, dental and vision insurance, paid time off and paid holidays. Please apply in person to 2250 Commercial Ave., Pasco, WA 99301.
…………………………………..
Looking for an experienced lead framer. Must have at least 5 years experience and own bags. Pay $20 - $25 per hour. Call Derek at 509-554-4883.
……………………………………….
Our Gamache team is ready to add a new addition to our Landscape Construction Crew! Must have a valid driver's license, self-motivated and willing to work hard. This is a Full-time position, we offer competitive wages and are looking to fill immediately! Landscaping experience a plus. Please come in to the office to apply.
Gamache Landscaping 1212 Columbia Park Trail Richland WA 99352 *PLEASE NO PHONE CALLS*
……………………………………..
Alvarez Auto Sales is hiring! We are looking for a Bilingual sales person to join our team. This is an opportunity to make up to $10,000 a month without breaking your back and helping people get into the vehicle they really want! Clean Work Environment and our top sales people a month average just about $9k a month! Get paid for your hard work and not just an hourly rate but by how many vehicles you sale! Responsibilities: • Relationship Building/Account Management for new customers and existing customers. Actively build relationships with customers and prospects Requirements • Prior automotive sales experience is helpful • Previous outside sales experience is a plus • Excellent communication and customer service skills • Computer & phone skills • Strong work ethic • Bilingual • Current, valid driver's license and satisfactory Motor Vehicle Report (MVR) Benefits We offer a comprehensive benefits package including: • 1 Month Training Salary plus commission • Competitive commissioned pay plan with bonuses, spiffs and other incentives. • Health insurance available • The use of a company issued computer and client development software • Paid professional development and training
Employee discounts on automobiles
COME MAKE SOME REAL MONEY WITHOUT ALL THE HARD MANUAL LABOR AND DRESS TO IMPRESS! THERE IS ALSO A FINANCE MANAGER POSITION OPEN OR YOU CAN EARN YOUR WAY TO A FINANCE MANAGER JUST LIKE OUR CURRENT GENERAL MANAGER
Please apply in person: Alvarez Auto Sales 5225 W Canal Dr Kennewick, WA 99336 509-783-0888
………………………………………..
Legal Secretary Position available in busy office. Previous experience as a legal assistant with exposure to family law required. Proficient in Microsoft Word and knowledgeable with FamilySoft a benefit. Type 60+ wpm. Strong organizational and interpersonal skills. Salary DOQ. Good benefits. Send resume and cover letter to Kuffel, Hultgrenn, Klashke, Shea & Ellerd at PO Box 2368 Pasco WA 99302.
…………………………………………
Looking to hire a gas station cashier for grave yard and swing shifts, full time or part time. Experience is a plus but not required. We will train the right candidate. Please email a resume or apply in person to schedule an interview. We will pay Based On Experience. Hiring for multiple locations!
2111 Van Giesen St, Richland, WA 99354
…………………………………………..
SportsPage Downtown Kennewick - NOW ACCEPTING APPLICATIONS for Security/barback. Please come into the bar to fill out an app Monday or Tuesday from 10am-3pm and ask for Mindy!
………………………………………
Are you an energetic career minded individual? United Finance Co. is hiring CSRs for our growing office in Kennewick, WA. We are looking for candidates that are highly motivated, possess a good customer service attitude, have a strong work ethic and a willingness to learn. There is strong potential for growth and advancement for successful hires.
We have structured training programs. Our training programs provide extensive training and hands-on experience in the field of consumer lending. Upon completion of our training and internship program, our goal is that you will become an effective and successful member of our staff in a high paced and competitive environment.
United Finance Co. is a locally owned consumer finance company doing business since 1922. We currently operate 27 offices throughout Oregon, Washington, and Nevada.
Requirements:* High School Diploma or GED* Great Customer Service Skills* Pass a Credit Check ( no derogatory items on credit )* Proficient with Microsoft Office programs and Windows Environment* Drug Screening* Criminal background check
Preferred (but not required):* Experience in the Finance and/or Banking Industry* Bi-Lingual (Spanish/English)Benefits we provide:* Competitive base salary and bonus potential* Career advancement opportunities and the training to get you there* Excellent benefits package -- Medical, dental, paid vacation, an outstanding profit sharing plan and much more.
Please visit our website at www.unitedfinance.com to see details about our Company.
Submit resume Attn: Matt/Dave
…………………………………….
Long standing local family dining spot and Tri-Cities number one caterer for three years in a row, C.G. Public House and Catering is hiring! We are looking to add to our ever growing and expanding team. We are looking for full-time and part-time experienced Line Cooks. We are coming into our busy time of year and are looking for hardworking, dedicated employees, who are driven and self-motivated. Our kitchen is the heart of our restaurant! We are looking for people who love this industry as much as we do. Please go to our website and apply: www.cgpublichouseandcatering.com/employment
…………………………………….
Senske Lawn & Tree Care is looking for motivated, outgoing, organized individuals to join our direct sales team. If you think you have what it takes to make sales in a door to door environment, apply today! We offer an hourly rate/commission plus bonuses, the more you sell the more you make. Work hours are evenings M-F and an occasional Saturday.
Minimum expectations: No Sales experience required. Must be 18 years old. Excellent verbal and written communication skills. Customer service and goal oriented. Must be a people person. Must have a desire succeed.
Responsibilities: Present services to potential clients in your assigned territory. Conduct property (Lawn / Tree / Pest) analysis and provide solutions to customer's needs. Daily reporting, tracking and following up with contacts. Have fun!
Benefits:
BASE PAY / COMMISSIONS / BONUSES
Medical, Dental, Vision, 401(k)
Paid Vacation and Holidays
Free Lawn Care or Pest Control
Must pass background and drug screens
Please apply in person at 410 N Quay or email resume to msalas at senske.com
……………………………………..
Looking for someone with experience in production sewing. We manufacture pet beds. RELIABLE, able to run all machines, (Walking foot, serger and straight stitch), be self-motivated and have good work ethics. Able to work with deadlines for orders, be accurate and to sit for long periods of time. Attention to detail is a must. Thread trimming and marking is required. Must also be able to climb stairs. Training on all products will be provided.
This person is responsible for sewing all products from start to finish with the exception of cutting fabric and batting. This is a small operation and is full time, 8:30 to 5 Monday through Friday. APPLY IN PERSON AT: 1215 S 10th Ave, Pasco, WA. 99301
NO PHONE CALLS PLEASE. BRING RESUME AND REFERENCES
…………………………………………….
Famous Dave's BBQ is hiring for all positions. Must be 18 years old. Apply in person at 8110 west Gage Blvd Kennewick.
……………………………………………..
HIRING KITCHEN HELP TODAY. at the EDGE Steakhouse & Sports Lounge. Drop off a resume at 314 N Underwood St. Ask for Brett, Erika, Laurie or Emilie. If you have applied before please drop off a resume again.
………………………………………………
Housekeeping Help needed at the Clover Island Inn – Apply in person.
……………………………………..
Help Wanted - Adventures Underground is seeking a full-time Children's Buyer. $12/Hour. We are looking for a mature, creative, and self-motivated individual to continue to develop our children's department. Responsibilities include: Ordering new children's toys and accessories. Evaluating trade-in of used items to establish offers of store credit. Meeting fiscal expectations of budgets and departmental growth. Data entry of product, including price, condition, and catalogue. Merchandising of product, including display, organization, promotional events. General cashiering, customer service, and light cleaning. Training other staff in departmental specifics.
Requirements include: Knowledge of and interest in a variety of children's toys and books. Ability and desire to keep up to date with new releases and trends. A congenial attitude toward customers and co-workers. Basic computer skills (email, word processing, etc). Excellent verbal and written. Communication skills in English, by phone and email, in person, and computer keyboard. Reliable transportation. Age 18+. Ability to lift up to 50 pounds, and frequently twist or bend at the waist. Ability to stand for long periods of time. Ability to read and interpret websites, email, order forms, packing slips, etc. Willingness to confront disruptive or law-breaking patrons.
Interested persons should submit a resume and cover letter to:
Attention: Kory
Adventures Underground
1391 George Washington Way
Richland WA 99354
………………………………………….
The all new Silos Sports Bar & Grill -NOW HIRING for all positions! Apply in person Mon-Fri from 8-10am! 12125 W. Clearwater Ave Kennewick, Washington
………………………………………..
Bonefish Grill- Hiring Dishwashers (Richland) Now Hiring for Dishwashers- Ask to speak to management when applying. Experience preferred, but not required. We offer competitive wages based on experience level. Apply in Person any day of the week. Any time between 11:00 am and 5:30 pm. No phone calls please.
………………………………………….
Auto Mechanic Position Available - Prestige Motors is looking to add to their team of expert technicians. We are located at 2520 W Court St in Pasco please stop by and leave a resume or submit a resume through email. Responsibilities: Diagnose cars based on customer statements and determine appropriate repairs needed, Perform routine maintenance such as oil changes, checking fluid levels, Replace or repair worn parts as needed, Road test vehicles, Maintain neat and organized work area.
Qualifications: Previous experience as an auto mechanic, Knowledge of tools and equipment being used to repair vehicles, Strong critical-thinking and troubleshooting skills, Must have hand tools, Must have valid driver license.
…………………………………………..
Fairfield inn in Kennewick is holding open interviews Today, Wednesday and Thursday from 9am-12 we are looking for housekeeper weekend shift hrs. 8:30am-till rooms are done. Experience preferred but required. Willing to train right person. Serious inquiries only....This is weekend shift Thursday, Friday' Saturday & Sundays. Apply in Person.
………………………………………..
STERLING'S RESTAURANT is hiring for Night time Dishwashers and Night time Cooks. No experience needed, will train for both positions. Must be at least 18 years of age and available to work the Weekends. Please come in and apply at 890 GW Way in Richland.
……………………………………….
Pasco Processing is looking for a scalehouse attendant for the upcoming season. This is a seasonal position (end of May- December) but rehiring for the next season is preferred. The shift is rotating and hours will be: Tuesday - Wednesday 7am - 3pm, Thursday - Friday 3pm-11pm, Saturday 11pm -7am, Sunday- Monday off.
Please come to 5815 Industrial Way, Pasco and pick up an application. Hoping to fill in 3 weeks
……………………………………..
Jack in the Box is currently hiring for Team Members in your area. We're looking for friendly, customer oriented individuals with good math, reading, writing and verbal communication skills.
As a Team Member you will:-Focus on providing excellent customer service to guests and ensuring a hassle free experience-Treat others with dignity and respect-Enjoy working in a fast-paced, high energy, and team-oriented environment-Have high ethical standards-Willingly accept and comply with Company grooming and appearance standards -Learn to work a variety of positions within the restaurant-Open availability is preferred. Please stop by and fill out an app were located at 49 Columbia point drive Richland next to WinCo.
………………………………………………
Kennewick School District – ksd.org
Why not #choosekennewick and come work with us?
We've posted several new jobs at https://bit.ly/1rynP2m.
Here's a sampling: -Fiscal Officer (Administration Center) -Autism Classroom Para (Washington Elementary) -American Sign Language Teacher (Kennewick High) -Dual Language Second Grade Teacher (Eastgate Elementary) -First Grade Teacher (Eastgate Elementary) -Third Grade Teacher (Cascade Elementary) -Tier II Behavior Teacher (Amistad Elementary) -Nutrition Services Cook (Westgate Elementary) -Alternative Programs Special Services Teacher (Districtwide) -First Grade Teacher (Sage Crest Elementary) -Third Grade Teacher (Canyon View Elementary)
…………………………………………….
The Original Pancake House-Kennewick 3717 plaza way - Looking to hire in all positions.
Cook, Server and host. Bring your great personality and a resume (if you have one).
……………………………………….