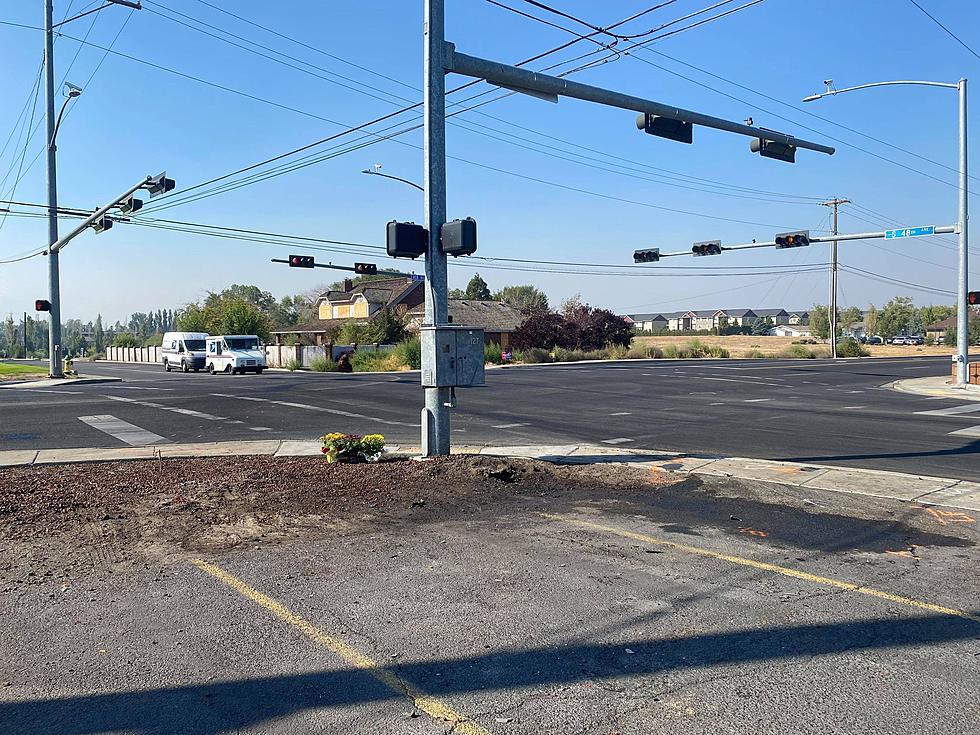 Don't Stop For a Red Light? Crash Ends in Tragedy Tuesday
Two flower pots mark the spot of the tragic crash.
A two car crash at the intersection of 48th Avenue and Nob Hill on Tuesday took the lives of three people and injured a child.
THE CRASH WAS REPORTED AT ABOUT 10:18 TUESDAY NIGHT
Yakima Police say the crash was reported at 10:18PM Tuesday when a 1994 Ford Escort driven by a 20-year-old Yakima resident was traveling northbound on 48th Avenue at what police say was a "high rate of speed." Police say the driver didn't stop for the red light at the intersection crashing into 2007 Mitsubishi Galant driven by a 23-year-old resident of Wapato.
THE CRASH TOOK THE LIVES OF THREE ADULTS AND INJURED A CHILD
As a result of the crash officers say a 23-year-old male passenger in the Escort and a 19 year old male passenger in the Mitsubishi were pronounced dead at the scene by Paramedics. Authorities say a 20-year-old female passenger from the Mitsubishi was taken to Yakima Valley Memorial Hospital with serious injuries. But she later died.
A 5-year-old female passenger also in the Mitsubishi was treated at Yakima Valley Memorial Hospital and then transferred to Harborview Medical Center in Seattle in stable condition.
POLICE SAY THE DRIVER OF THE FORD ESCORT FACES CHARGES
Yakima Police say the driver of the Mitsubishi was treated for minor injuries and then released.
The other driver of the Ford Escort was seriously injured and is being treated at Yakima Valley Memorial Hospital. That person faces charges. Yakima Police say charges of Vehicular Homicide and Vehicular Assault will be requested for the driver of the Escort once he is medically cleared so he can be arrested and placed in jail. Authorities say intoxicants and speed were causing factors in the collision.
No names have been released as the investigation continues today.
Top 100 Classic Rock Artists
16 Guests Who Were Banned From 'Saturday Night Live'