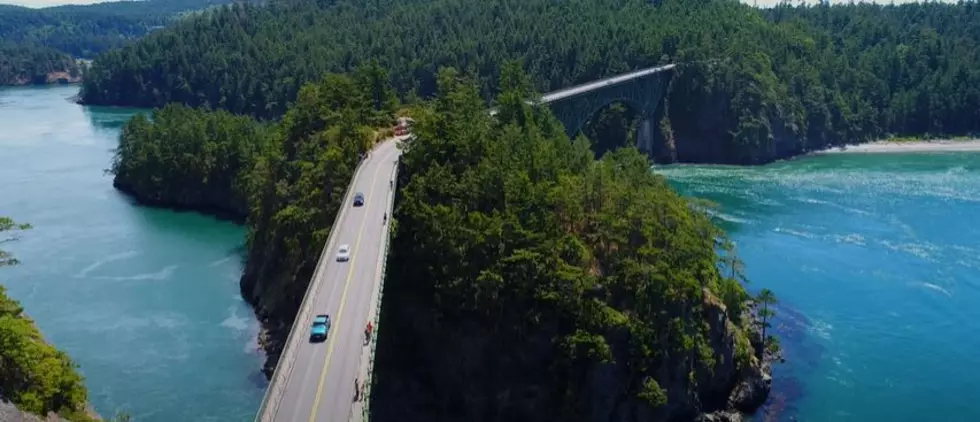 Outstanding Bridge Built Through an Island Is a Washington State Wonder
youtube/tom spurlock
One Of Washington State's Engineering Wonders Is A Bridge Through A Island
One of the most fantastic engineering feats exists right here in Washington State.

Washington State's Deception Pass Bridge Opened To Traffic In July 1935
It's a beautiful drive along Washington State Route Highway 20 and one of the wonders you'll discover along your road trip is the Deception Pass Bridge.
The bridge connects Whidby Island in Island County Washington with Fidalgo Island in Skagit County Washington. 
Deception Pass Bridge Links Two Washington Islands For Amazing Views
The cool thing to that right in the middle of the bridge, there's another small island that holds up a portion of the bridge.
The bridge is also composed of two spans. The bridge has often been photographed as a landmark for the Puget Sound Region.
Long before the bridge came into existence, horses and buggies had to cross by ferry. Legend says that travelers had to bang on a saw with a mallet and wait to be picked up.
The bridge was constructed starting in 1932 and was completed in 1934. The cost was $482,000 and the irony is that when the bridge was repainted back in 1982, that was the total cost of the bridge. The latest painting of the bridge cost $22 million showing you the escalation of prices through the year.
I'm more fascinated by the little island that is right between the two bigger islands that hoist the bridge up.
Pass Island can be explored with the Pass Island loop and offers up some spectacular views to take photographs and enjoy a picnic with the family.
If you are headed out and exploring Washington State this year, I'd add Deception Pass Bridge to your checklist of things to do.
10 Photos That Let You Peek Inside Of The Evergreen Aviation And Space Museum
Home of the world's largest wooden plane "The Goose Spruce", take a peek inside The Evergreen Aviation And Space Museum in McMinnville, Oregon
27 Beautiful Breathtaking Pictures Of Painted Hills Oregon
Take a virtual hike into the Painted Hills of Oregon