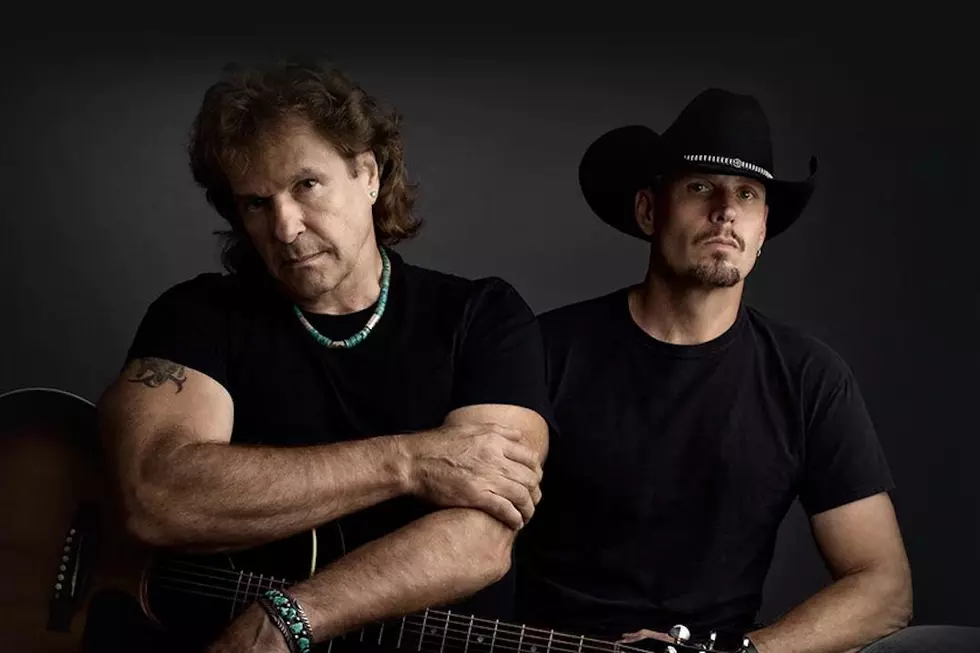 Remember 90's Country Hitmakers BlackHawk? Revisit Their Top 10 Songs
Courtesy of the artist
The explosion of emerging talent that came onto the country music scene in the 1990s included a wave of impressive new bands. For decades, the genre had been overwhelmingly dominated by solo acts — aside from Alabama, arguably the greatest country band of all time — and a handful of groups like The Nitty Gritty Dirt Band, The Oak Ridge Boys and Restless Heart.
Then, all at once, the "band" became the thing. There was Diamond Rio, Little Texas, Shenandoah and Sawyer Brown. And then there was BlackHawk, cobbled together from the ashes of a 70s Southern rock band from Tampa, Fla. called the Outlaws. Blackhawk lead vocalist (and founding member) Henry Paul had been in the Outlaws, and later he'd be joined by another former member of the band, Randy Threet, when founding guitarist Van Stephenson stepped away after being diagnosed with melanoma. Sadly, Stephenson died as a result of the disease just a year later, on April 8, 2001.
BlackHawk released their eponymous debut in 1994 on Arista Nashville. It was certified double platinum and filled with timeless hits, like their debut single "Goodbye Says It All." Since then, the group has released eight studio albums (including a Christmas album) and two live albums. Now a duo, comprised of founding members Paul and Dave Robbins, BlackHawk is rolling into their fourth decade of making music as one of the most celebrated groups of their era. They are set to release Blue Highway, BlackHawk's sixth record which the band began recording all the way back in 1992, but never completed until now.
Ahead of their new album, let's take a look back at some of BlackHawk's most memorable and widely beloved tracks. Here are The Boot's picks for their Top 10 best songs, so far:
10

"Baby, the Rain Must Fall"

From: 'Blue Highway' (2022)

"Baby, the Rain Must Fall" was originally included on the band 2014's record Brothers of the Southland. Earlier this year, it was updated and rereleased ahead of their new album Blue Highway, coming this June. It's a ballad, by BlackHawk standards, and marks a bit of a directional shift, but fits perfectly into the rest of their catalog. If it's a sign of what's to come, the group's fourth decade will be as strong as the last three.

9

"That's Just About Right"

From: 'BlackHawk' (1994)

BlackHawk's debut was stacked with hits, as you'll discover as this list goes on. Released in an era where sequencing on country albums started, continued and ended with hits, "That's Just About Right" came in as the fifth tune on their self-titled record's track list.

8

"Postmarked Birmingham"

From: 'Love & Gravity' (1997)

Written by Phil Vassar, "Postmarked Birmingham" is a tune about a woman who feels like the only way out of a relationship was to leave with no notice. She sends off a letter from the next stop written on hotel stationary. Was Birmingham her final destination? BlackHawk leaves it up to the listener to decide.

7

"Love Like This"

From: 'BlackHawk' (1994)

This one is a deep cut from the band's debut that became a live favorite. A driving track, it has a lot of room for instrumental improvisation.

6

"I'm Not Strong Enough to Say No"

From: 'Strong Enough' (1995)

A… Mutt Lange track from BlackHawk? Yes, the legendary rock producer that was once married to Shania Twain penned this title track from BlackHawk's second record. Incidentally, it feels like a response to Sheryl Crow's massive pop hit "Strong Enough" and, as the title suggests, the answer is "no."

5

"There You Have It"

From: 'The Sky's the Limit' (1998)

BlackHawk was an act that sustained through the aftermath of the early 90s country boom which went through transition at the end of the decade, as artists like Tim McGraw and Kenny Chesney took hold of the charts. This track leaned heavily into a fiddle sound that felt a lot like where McGraw's music was going at the time, and it held up beside it. The band didn't sacrifice anything they were already having success with, and instead just repackaged it.

4

"I Sure Can Smell the Rain"

From: 'BlackHawk' (1994)

BlackHawk's catalog is filled with upbeat, poppy sing-alongs that had a ton of crossover potential. This was much more of a ballad, and it harkened back to their forefathers, Restless Heart.

3

"Like There Ain't No Yesterday"

From: 'Strong Enough' (1995)

Featuring a bridge that's among the best in country music, "Like There Ain't No Yesterday" was a big hit for longtime Muscle Shoals-based songwriter Mark Narmore. It was a co-write with fellow Shoals native and former member of the country band The Shooters, Walt Aldridge, who had some other major hits, including Travis Tritt's "Modern Day Bonnie and Clyde."

2

"Every Once in a While"

From: 'BlackHawk' (1994)

This song did more for mainstream mandolin than most anything had since R.E.M.'s "Losing My Religion." This one was written by Paul, Stephenson and Robbins in an era where a lot of country acts didn't write their own music and "Music Row" had begun to thrive. It was the real deal.

1

"Goodbye Says It All"

From: 'BlackHawk' (1994)

This was the song that started it all, and it still grabs you from the first guitar lick. It oozes 90s country. It's a breakup song. It's got a big, clear sing-along hook. It's also the one that everyone is going to know. It's hard to argue with that.