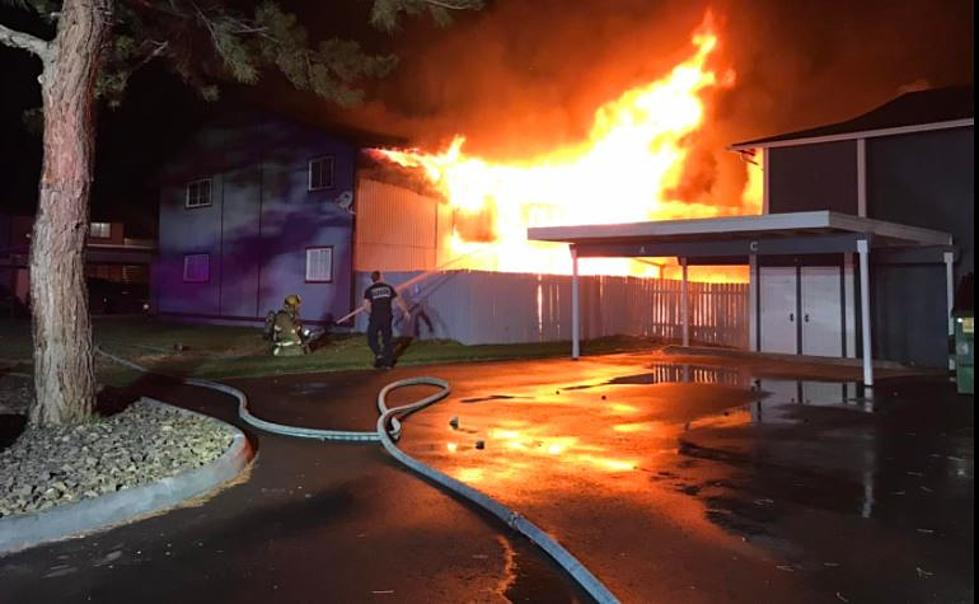 Wind Fans Kennewick Apartment Fire, 4 Families Displaced
Kennewick apartment fire (KPD)
Those gusty overnight winds this weekend made battling an apartment fire more difficult for Kennewick Fire crews.
 The apartment fire began around 3:40 AM Sunday morning
Kennewick Fire investigators say they have not pinpointed the cause yet, but they responded to a pair of apartment buildings at 4210 and 4202 West Albany. They are smaller four-plex type buildings, two stories tall.
This is a street view of the location.
The fire began at 4210, where four families have been displaced and two cats perished in the wind-whipped blaze. But fortunately, no one was hurt.
However, the wind spread the flames to the adjoining structure at 4202, but those units are not currently occupied, according to officials.
It took crews about a half-hour to bring the fire under control.  Because of the wind, and rapidly spreading and whipping flames, it will be more difficult to pinpoint the exact location and cause of the blaze.
KEEP READING: Scroll to see what the big headlines were the year you were born