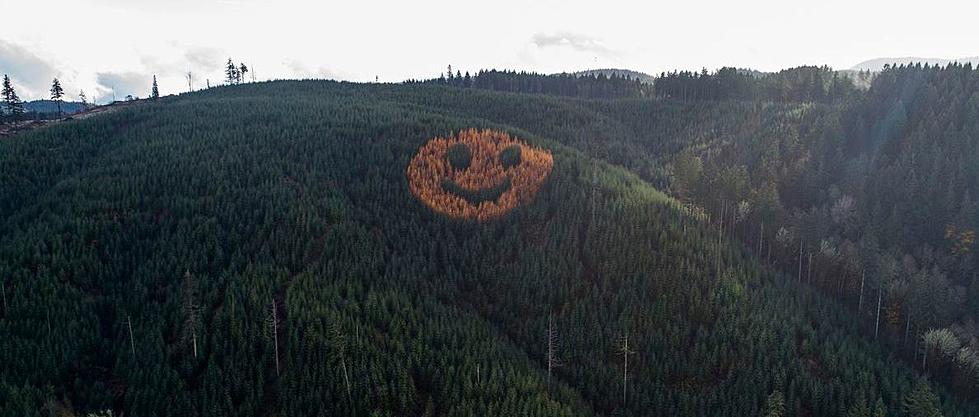 What's The Story Behind Smiley Face In Oregon Hillside Forest?
reddit/https://www.reddit.com/user/cciva/
it's not your imagination, there is a bright orange smiley face on an Oregon hillside that you can't miss when you pass by it. 
Where Is The Smiley Face In The Forest In Oregon?
You can't miss this massive smiley face along Oregon Route 18 outside of Willamina Oregon.
How Can I See The Smiley Face In Oregon?
It's as bright as can be and it's a giant smiley face embedded into the hills of Oregon.
I'm sure many a traveler has looked up and seen the smiley face peering down at them.
It has to be one of the most unusual roadside sights you'll see on your journey through Oregon.
The question is how did this smiley face come to be in the middle of nowhere Oregon?
Here Is How The Giant Smiley Face In Oregon Came To Be...
According to Reddit, David Hampton and Dennis Creel planted larch trees in this Oregon forest to create a smiley face. It's actually pretty clever because the face is made up of larch and evergreen trees.
Larch trees turn yellow in the fall, giving the illusion of a smiley face on the side of the hillside.
The smiley face took over a decade to grow and it hopefully will be several decades before the smiley face is no more.
How Old Is The Smiley Face Emoji In Oregon?
The coloring has slightly dulled through the years and the residents of the area hope that once that area is harvested for trees, a new smiley face will spring up in its spot.
Have you ever seen this face on your drive through Oregon? If you see it in the future, you'll know exactly how it got there.
If you ever have ever driven through Dayton, you've seen the Jolly Green Giant embedded into the hillside, it's a very similar concept to the smiley face of Oregon.
You can read more details on the smiley face on Reddit or here. 
READ ON: Weird, wild UFO sightings from throughout history
Celebs Share Their Personal Paranormal Stories