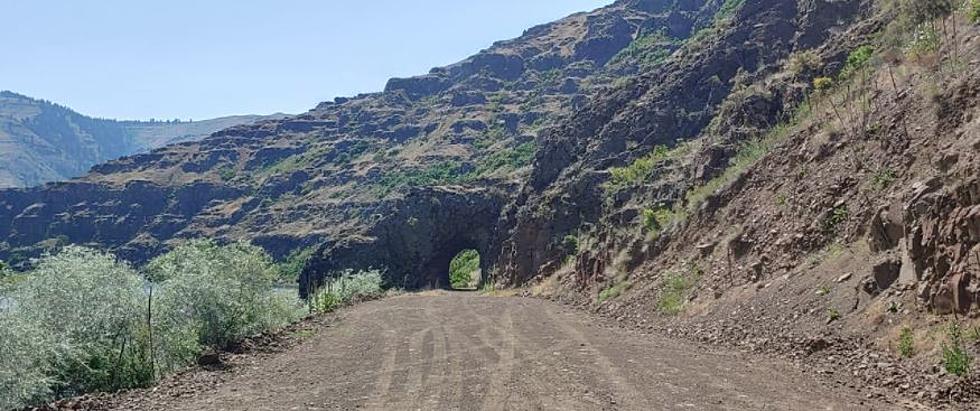 Washington's Mysterious Hole In The Wall Road Is Worth Exploring
Images of America - Clarkston, Asotin County and Lewiston
There's a mysterious hole in the wall road at the far corner of Eastern Washington that might be worth exploring if you are looking for a new road trip adventure. 
Unique Tunnel In Washington State Has An Interesting Origin
The road is off the beaten path a bit but the explorer in you is going to love the adventure.
I grew up on the Grande Ronde River in the lower part of Asotin County and even I've never been to this cool isolated river road.
One Of Washington State's Unknown Roads Worth Exploring
I belong to a great Facebook group page that is featuring this little-known road and I've been enjoying the comments on how the road came to be since there literally isn't much history on why someone drilled a hole into this mountain to create a road.
The "Hole-In-The-Wall" road is actually at the bottom of Shumaker Grade outside of Anatone on the Grande Ronde River.
Commenters are speculating on the origin of the hole and most believe that a bridge once existed that was a roadway to Enterprise and Joseph Oregon. The road ends a short way after the tunnel perplexing the locals and travelers that discover the road.
Another poster in the Facebook group commented that a ferry once existed on the other side of the tunnel and old maps verify from the early 1900s that some sort of river crossing existed.
The Road Less Traveled Does Exist In Washington State
According to another comment, stated that Ray's Ferry was there until 1911 when Shumaker's Bridge was constructed. Shumaker's Bridge was washed out in 1948 and never replaced because the Rattlesnake Grade has already opened.
The "Hole in The Wall" or "The Tunnel" still exists today and if you are up for a day-trip adventure, it might be worth packing a lunch and exploring this summer.
A big thank you to the Images Of America - Clarkston, Asotin County, and Lewiston for a fascinating subject and visual aids - You can check out their Facebook page here.
Deepwater Cabin on Water is Paradise Waiting for You
A secluded waterfront property on Lake Chelan awaits you! Amazing views are just what the doctor ordered. Bring your boat and enjoy the sparkling blue waters. Anywhere you turn, you'll experience a beautiful scene.
Local Earth Home Popular Airbnb to rent in Richland
This tiny earth house is available to rent in Richland...next year. It's a popular mainstay for your guests when visiting the Tri-Cities.