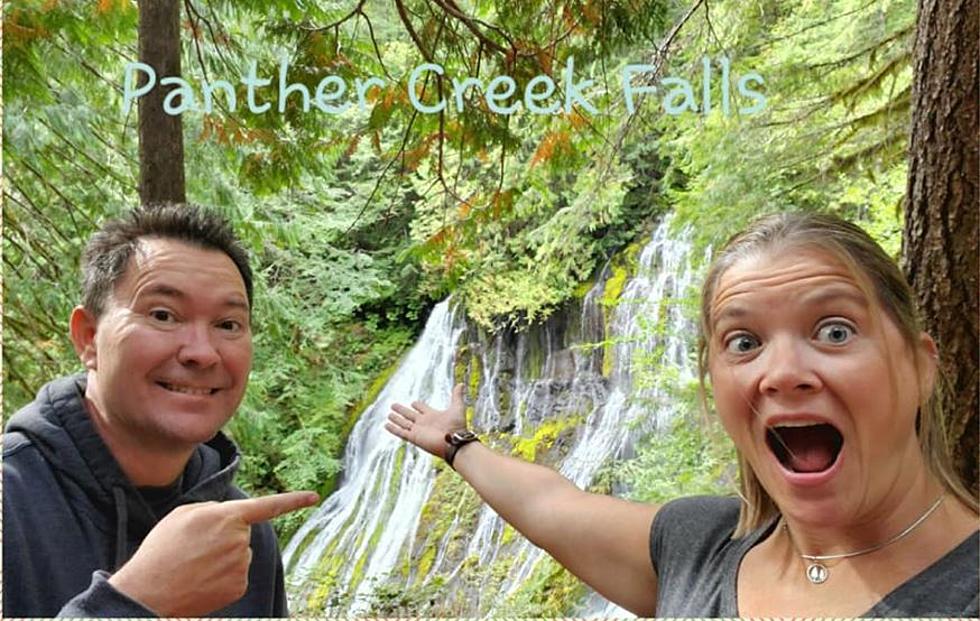 Washington State Short Easy Hike Reveals Gorgeous Gorge Waterfalls
Megan Mikals
My wife has this wonderful hiking book that she bought on our anniversary last year.

One Of The Neatest Washington Waterfalls Is A Short Hike Away In The Columbia Gorge
We stayed in Carson Washington last fall on our anniversary and my wife discovered a book in the gift shop called Curious Gorge, a book by Scott Cook that features all kinds of hikes on the Washington and Oregon side of the Columbia Gorge.
My wife, once she bought the book, had to take us on our first hike. I opted for something easy and right in the backyard of Carson Washington was a great little hike that surprised me with an amazing waterfall at the end of it.
There's no fee required for this hike and it's pretty amazing when you get to the end of the trail and it opens up into a spectacular waterfall.
The Panther Creek Falls Hike Is A No-Fee Trail In Washington State
I've compiled some pictures of this hike to whet your appetite and have you mark this on your list of things to do if you are exploring the Columbia Gorge.
The hike is called Panther Creek Falls and here are some photo highlights. I'll give you details and directions to the trail after the photo gallery.
Washington's Panther Creek Falls Hike Features Amazing Waterfalls
Take a hike near Carson Washington that features an amazing waterfall at the end. The best part of Panther Creek Falls is that it's a no-fee destination and worth the drive from Tri-Cities.
Here are the directions to reach the trail according to Washington Trails Association:
From Carson, head north on Wind River Highway. Proceed 4 miles, then turn right on Forest Road 65.

Make the first left, following 65 around toward Panther Creek campground. Follow Forest Road 65 for about 8 miles. There will be a gravel turnout for parking on the right. Park in the turnout (leaving room for other visitors) and cross the road to the trailhead.
I will give you a piece of advice, Google Maps took us further up the road so look out for the huge gravel pit turnout and you'll be good to go.
Panther Creek Falls Is A Great Adventure That'll Be Picture-Perfect
Panther Creek Falls is just another spectacular place you can explore right here in Washington State.
You can read more about the hike and the falls here.
This Hike in the Columbia River Gorge is a Must Experience
The Labyrinth to Coyote Wall Loop. It runs 6.7 miles with an elevation gain of 1,489 feet. It features a waterfall, lava tube, rock formations, and incredible views. It's heavily trafficked with hikers and mountain bikers on weekends and dogs are welcome on a leash. Beware, you'll need good hiking shoes as a good portion of the trail is very rocky. It's open all year round, but the experts recommend day use from March to November.
Here's 3 Cool Hikes Near Tri-Cities
Badger and Candy Mountain are the two most popular local hikes, and for good reason, they're close, offer stunning views, easy parking, and they're fairly easy. But, if you're looking to freshen up your hiking experience without having to drive long distances, check out these three ideas, all within 30 minutes of Tri-Cities.
Experience One of the Most Scenic Hikes on the Oregon Coast
In 1806 Captain Clark of the Corps of Discovery described what is now
Ecola State Park
in Oregon as "…the grandest and most pleasing prospects which my eyes ever surveyed…". I completely agree with Captain Clark and that's why I make it a point to visit the park, which is near Cannon Beach, each year. And, there's no better time than right now! Scroll down and take a gander at nature's glory.