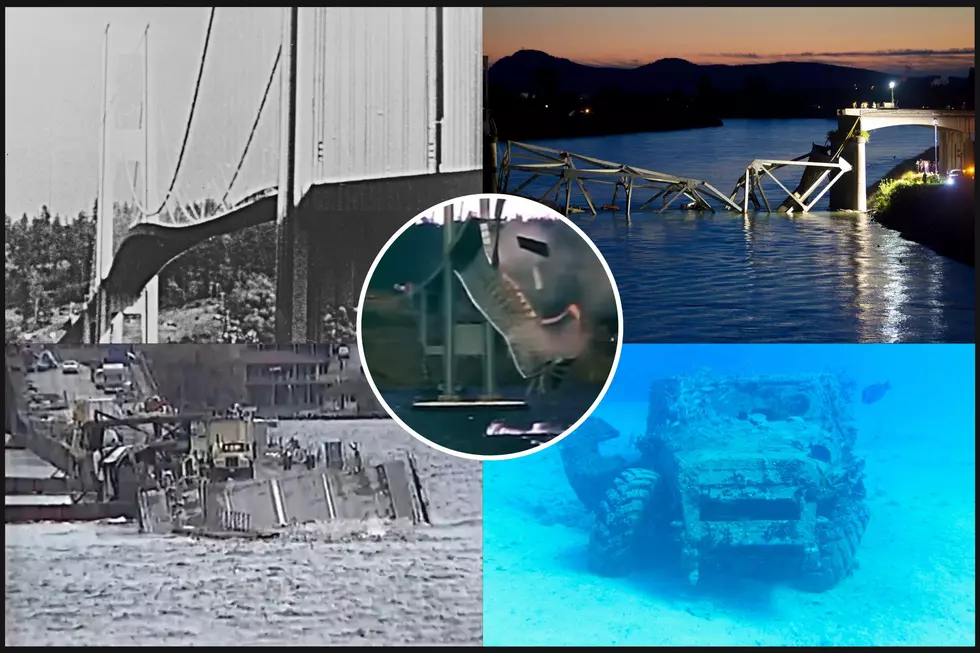 Washington's 70 Collapsing Bridges Are An Unparalleled Nightmare
Getty Images, YouTube
Things that occur far too often in Washington state:
Sounds like three outrageous ways to die, so obviously they happen regularly in Washington.
Seventy bridges have collapsed in Washington state history.
Since 1905, dozens of bridges have collapsed in Washington, with the most recent failure occurring as recently as 2013. The most frequent culprit is flooding. Floods cause bridges rooted in the water to lose their structural integrity and then boom, it's falling down. My fair lady.
Tacoma Narrows Bridge collapse of 1940
Perhaps the most famous bridge disaster in history, the Tacoma Narrows Bridge collapsed in 1940 after twisting violently with the wind. The bridge had been opened merely four months earlier. The only fatality was a dog, but the horrifying series of events was caught on film. This is truly one of the most surreal moments in United States history.
Allen Street Bridge Disaster of 1923
This tragedy is the deadliest bridge failure in Washington's history, with an estimated 35 lives lost. People were driving home from work when the Allen Street Bridge collapsed. Matters were made worse by a traffic jam moments before disaster struck over the Cowlitz River.
The sinking of the Lacey V. Murrow Memorial Bridge in 1990
My wife hates driving on any bridge, but she loathes the Lacey V. Murrow Memorial Bridge. I don't mind the bridge but she clenches tighter than Scrooge McDuck's grip on a stack of dollar bills every time we go to Seattle. I'll glance over at her and see that she's well beyond rigor mortis while at the same time I'm trying to comprehend how concrete can float. I still haven't told her that this famous pontoon bridge actually sank back in 1990. Bad choices were made during a renovation and the bridge slipped into something comfortable as a result of flooding due to excessive rain. Nobody was hurt or killed.
I-5 Skagit River Bridge in 2013
This is the most recent bridge disaster in Washington history. The collapse of this bridge disrupted daily life so much, that Governor Inslee issued a state of emergency. 71,000 people crossed this bridge each day. A Canadian semi-truck with an oversized load caused the bridge to break apart behind it. There were no deaths.
There are so many more instances of bridge catastrophes in Washington, but these are the most-documented cases. Now that I'm done writing this article, I'm going to join several Tri-Citians in driving home across the Blue Bridge. Wish me luck.
LOOK: The most expensive weather and climate disasters in recent decades
Stacker
ranked the most expensive climate disasters by the billions since 1980 by the total cost of all damages, adjusted for inflation, based on
2021 data from the National Oceanic and Atmospheric Administration (NOAA)
. The list starts with Hurricane Sally, which caused $7.3 billion in damages in 2020, and ends with a devastating 2005 hurricane that caused $170 billion in damage and killed at least 1,833 people. Keep reading to discover the 50 of the most expensive climate disasters in recent decades in the U.S.