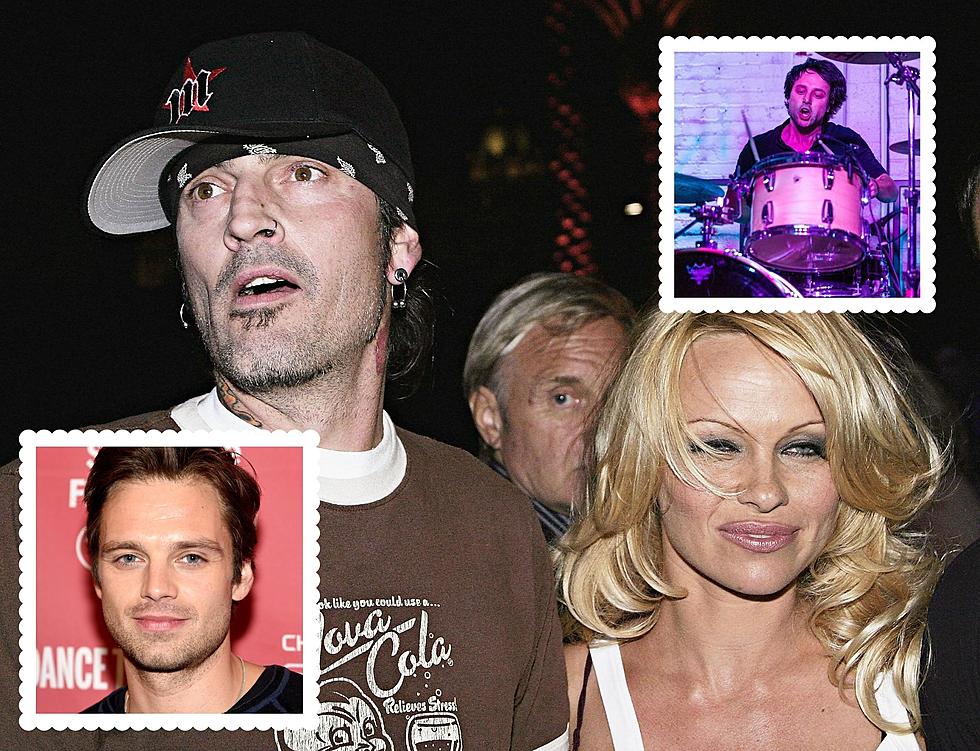 Tri-Cities Drummer Was Sebastian Stan's Teacher for Hulu's 'Pam & Tommy'
Getty Images
The whole world is talking about Pam & Tommy.
Hulu has produced a miniseries about the theft and subsequent leak of Pamela Anderson and Tommy Lee's infamous sex tape from their 1995 honeymoon. The show stars Sebastian Stan, best known for his role as the Winter Soldier across the Marvel Cinematic Universe, and Lily James, who I love in Baby Driver, as the titular Pam and Tommy.
Being an actor requires more than just good looks and the uncanny ability to cry real, fake, (real?) tears. Many actors choose to do most of their own stunts, some bring their dancing backgrounds to good use. In the case of music biopics, singing is usually in order. Val Kilmer wowed audiences with his replication of Jim Morrison's iconic voice in Oliver Stone's The Doors in 1991, while Rami Malek took home the Oscar for his portrayal of Freddie Mercury in 2018's Bohemian Rhapsody.
It's not uncommon to have actors merely lip-sync, and while we applaud actors who choose to do their own vocal stunts for the sake of authenticity, it's not a deal-breaker if they fake it. That's why I'm stunned and pleased to realize that Sebastian Stan did his own drumming in Pam & Tommy, though the real Tommy Lee's musical prowess isn't exactly what's bringing people to their couches.
Sebastian Stan enlisted the help of Isaac Carpenter for his role in Pam & Tommy.
Back in the late 90s and early 2000s, there was a band from Tri-Cities that seemed to be destined for greatness. Am I looking for another excuse to write about Tri-Cities' own Loudermilk again? Maybe. After the dissolution of Loudermilk, it was their drummer who arguably had the biggest career. Isaac Carpenter quickly found work in the industry, notably as Adam Lambert's drummer, and as the drummer for Duff McKagan's Loaded. In 2014, Isaac joined the ranks of Awolnation, best known for their smash single, "Sail." After a reunion with Loudermilk in 2021, it seems Isaac also brushed shoulders with the ranks of Hollywood, being brought in to coach Sebastian Stan up to replicate the thundering hands of Tommy Lee. In a social media post, he thanked Isaac for helping him learn the instrument, while also tagging Loudermilk bandmate Shane Middleton, who has gone on to become a barber. I assume Shane got him cleaned up for his appearance on Jimmy Kimmel Live!
Pam & Tommy premieres on Hulu tonight, with new episodes coming Wednesdays. If you weren't planning on watching it, perhaps the local tie-in will change your mind.
A Bunch of Amazing Celebrities You Know & Love are From Washington
Washington's A-listers, Oscar winners, Grammy winners, and faces of big franchises in one comprehensive list.
These are celebrities that have been born in, moved to, or lived in Washington.
The 100 Greatest Sports Legends in Washington & Oregon History
Whether they were born here, grew up here, went to college here, or played professionally here, these are the athletes you can't forget if you're from the Pacific Northwest.