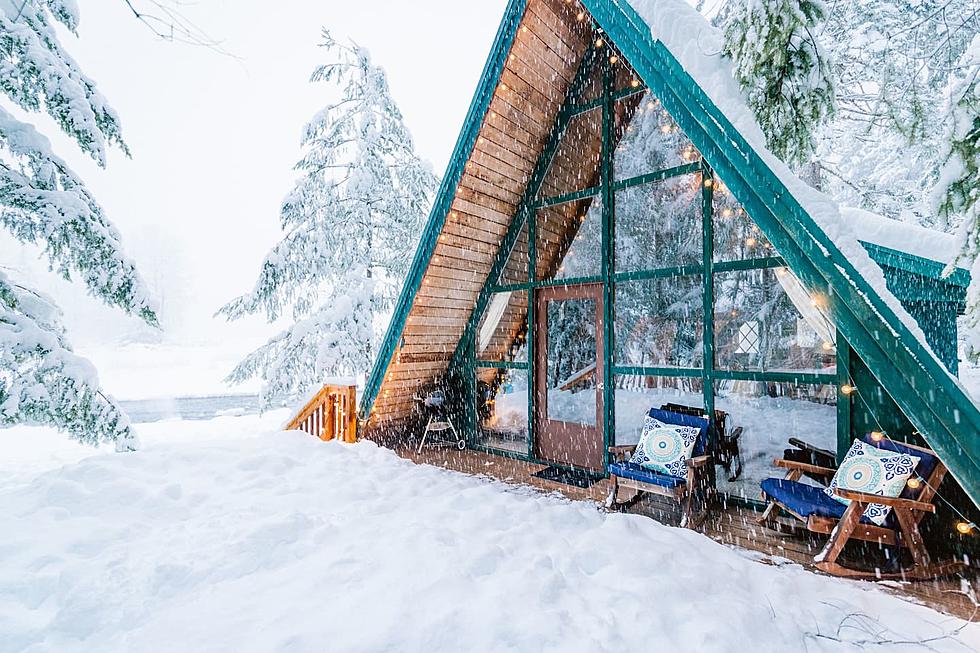 Super Cute Packwood Airbnb Is A Perfect Winter Getaway [PHOTOS]
credit: airbnb
It's almost like a Hallmark Christmas movie come to life. 
You know the story. An upwardly mobile young female executive from the big city is forced to go to the small town and discovers the hunky man cutting firewood.
At first, they argue about everything, and then in the course of two hours - they fall in love - it's always a perfect ending with a Hallmark movie and I love it. I'm always sucked in by a good ROMCOM.
This Packwood Washington cabin is the perfect holiday getaway and even if you aren't in a Hallmark movie, you can live like you are.
Thanks to AirBNB.com, this original 1960's A-frame cabin is nestled between the Cowlitz River and Coal Creek.
According to the listing, it's surrounded by an unobstructed river and mountain views within the beautiful National Forest.
The pictures are breathtaking and it looks like the perfect place to sneak away
Here are the details from the listing on this amazing property:
Tranquility awaits at this land's end cabin nestled where National Forest land meets both a river and a creek. Soak in the beauty of nature by our fire pit that overlooks the Cowlitz River. Utilize the cabin's large front and back decks for relaxing, yoga, or even camping.
The Cozy River Cabin is pet friendly - just please help your furry friends keep the great outdoors - outdoors...because indoors is cozy and clean, fully furnished and equipped for you to make yourself at home.
If you like to cook, the kitchen is stocked with appliances, pots, pans, utensils, a coffee maker, a kettle, and more. If you don't like to cook, Packwood offers charming eateries only minutes away.
Keeping with an authentic cabin experience, the main heat source is a wood-burning fireplace - we supply the wood.
Snuggle up on the large sofa for movie night on the flatscreen with a DVD player and Netflix, or unplug and catch up on some reading in our comfortable armchairs, listen to some music, and play a board game.
Everything is set up for an enjoyable evening until you're ready to call it a night. You can doze off right on the sleeper sofa, or climb into the loft for peaceful slumber on our queen or full beds, fitted with 400 thread count sheets so you'll be rested up for the next days' outdoor adventures.
It's an awesome cabin, let's take a peek inside:
Super Cute Packwood Cabin Is A Perfect Winter Getaway
want to getaway? check out this super-cute Packwood cabin that's the perfect winter getaway
Talk about straight out of a Hallmark movie, this AirBNB is available now for the holidays and its 4.9 rating makes it a place you'll want to snap up before the holidays kick in. You can check out more details on this rental property here. 
Tri-Cities' Cheapest Mobile Home Could Be More Glamorous Than My House
In an insane Tri-Cities housing market, it can be difficult to find something that works for you while fitting within your budget. If space isn't a necessity,
here's a home
that will change your mind about mobile homes. I'm not kidding when I say, "It's fancier than my house!" For $69K, you might rethink your home situation.
Check Out The Grain Bin Inn Airbnb In Pasco
Take a tour of the Grain Bin Inn in Pasco