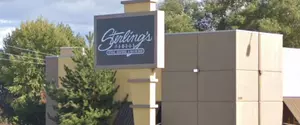 Richland Restaurant Under Fire for Repeated Mask Violations
google street view
One Richland Restaurant is under fire this week for repeated mask violations
According to reports and an article posted by KEPR-TV, five mask violation incidents have been reported against Sterling's Restaurant in Richland. Four of the violations originated from the Queensgate location and one for the George Washington Way location.
Washington's State mask mandate went into effect on August 23rd and it appears that people are using the State's website to report violates. If you weren't aware, there is a state-wide site that you can report mask violations to. The site is meant for businesses that have mask complaints and not for individuals or private groups not adhering to the mask mandate.
According to the article, Sterlings has no comment on the mask mandate.
KEEP READING: Creative Ways to Bring Joy to Your Neighborhood While Social Distancing
CHECK IT OUT: 10 Items Might Be in Short Supply This Winter