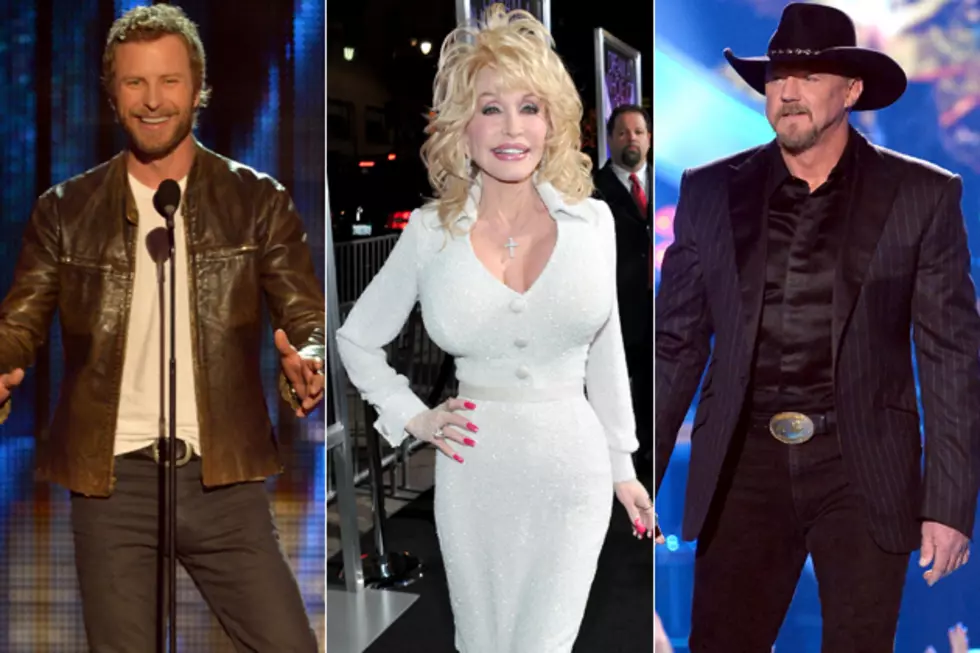 Top 10 Pickup Lines in Country Music
Rick Diamond / Alberto E. Rodriguez / Ethan Miller, Getty Images
Don't have a date tonight? Just turn on country radio, and you might get some advice for finding that special someone.
Yes, country music is known for tales of love and heartbreak, but something's gotta happen to spark all that romance. For some, it begins with a pickup line. Below, The Boot counts down the best pickup lines in country music, mixing the clever with the cleverly cheesy.
10

The Pickup Line: "Boy, if you wanna know the things I've been thinking / You'd be meeting me outside."

That's Meghan Linsey's line, but an honorable mention goes to Joshua Scott Jones' equally provocative opening lyric: "Your lips are moving, but I can't hear you / Wish you would talk your way right over here."

9

The Pickup Line: "Hey, baby, do you come here often? / Hey, baby, now, what's your sign?"

Stepping up to the plate with a barrage of classic pickup lines, Adkins still manages to make every one connect. And who doesn't love a song with a steady stream of baseball metaphors? No surprise that Adkins hits a home run.

8

The Pickup Line: "I know you've heard that worn out line about love at first sight / Well, I never knew those words were true 'til you walked in tonight."

By his own admission, Montgomery knows this come-on may be tired and cheesy, but that just means it's been battle-tested.

7

The Pickup Line: "I may not be in love / But let me tell you, I'm in heat."

That's not the only suggestive line in the song. "I ain't never seen a cowboy look that good in jeans," Parton sings of a man she sees strutting into a dancehall, hoping he'll fill her dance card. The Juliet wannabe even wants to invent a new two-step named after the object of her affection, the "Romeo."

6

The Pickup Line: "Hey, girl, what's your name? / It's so loud in here I can't hear a thing / But I sure do like your style."

Compliment a girl's clothes and you're in! Bentley shares his best lines for wooing ladies in little white tank tops. If only delivering a good pickup line were as easy as getting sideways.

5

The Pickup Lines: "I ain't ever seen a country boy with tires on his truck this high."

Who says men have all the best lines? We're sure the handsome Owen has heard his share of come-ons from the ladies, who love their men to be good listeners as well as good looking.

4

"Pickup Truck"

Shane Yellowbird

The Pickup Line: "Are you from Tennessee? / 'Cause baby, you're the only 10 I see."

Pickup lines are abundant in this song; whether they actually work or not is still a mystery. "My name is Shane / How do you like me so far?" Yellowbird asks, followed by the predictable "I need a map / 'Cause I'm lost in your eyes." Cheesy as a supermarket's Velveeeta shelf, sure, but give the guy some credit for persistence!

3

The Pickup Line: "Hey, good lookin' / Whatcha got cookin'? / How's about cookin' somethin' up with me?"

This timeless track showcases all the best qualities of a great pickup line: Keep it short and to the point. A simple rhyme and clever metaphor are a recipe for pickup success.

2

The Pickup Line: "I'd like to check you for ticks."

Known for his quirky and descriptive lyrics, Paisley paints a vivid picture of meeting a girl at a bar before escaping to the sticks in hopes of getting to know her a little -- make that a lot -- better. Whether or not our amateur entomologist finds any bugs on her is another story.

1

The Pickup Line: "If I said you had a beautiful body, would you hold it against me?"

The title of this classic hit says it all. Could you really hold it against anyone who came up to you and uttered the line that's so notorious even Britney Spears wound up "borrowing" it? We seriously doubt it.