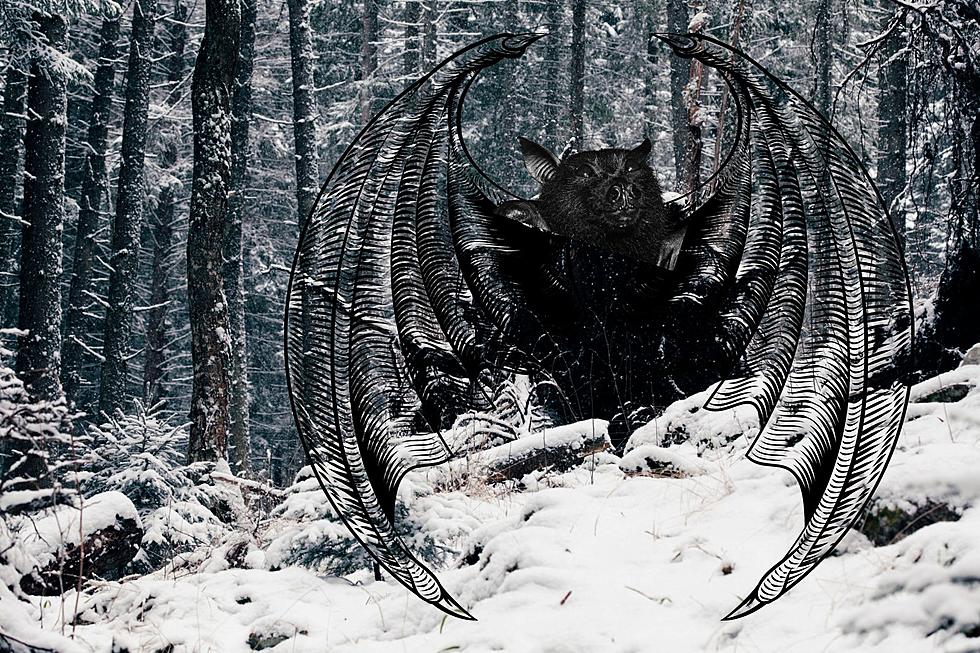 Massive Horrific Bat Spotted in Washington Dubbed 'Batsquatch'
Getty-Canva
Move over Sasquatch, you have competition and it's called 'Batsquatch'. Batsquatch is reportedly half-bat and half-ape and has been roaming the slopes of Mount St. Helens since it erupted 43 years ago in May of 1980. According to local folklore and Portlandghosts.com, Batsquatch was awakened from a deep sleep after the dramatic volcanic eruption and has been spotted many times since.
Described as an ape-like bat with a massive wingspan, Batsquatch reportedly weighs over 400 pounds and has piercing teeth, yellowish eyes, blue fur, and unique psychic abilities that impact human thoughts – causing feelings of dread when nearby. It's also been known to disrupt car engines and radio reception.
One of the first reported sightings happened in 1994 when a Washington teenager traveling at night had car trouble in a remote area of Pierce County. While he was assessing his predicament, something large landed on the roof of his vehicle causing it to indent. When the teen emerged from his car to investigate he was astonished to see a bat-like creature screeching and clawing. The teen, frightened beyond belief, ran for his life escaping with a torn shirt and damaged vehicle before the creature left.
According to numerous reports and websites, there have been quite a few sightings throughout Washington, Oregon, and California since 1980. The legend of Batsquatch still lives in the dark forests in the PNW and...as a beer...a Hazy IPA made by a popular Northwest Brewing Company. Pick some up and raise one up for the Batsquatch!
5 Weirdly Named and Strangely Famous Small Towns in Washington
Most towns and cities in Washington are named after Native American tribes. Others are named after families or local monuments. Here are five small Washington towns with strange or interesting names and the history behind them. These include the birthplace of United Airlines, murder, mystery, and just plain fun.
SEE INSIDE Abandoned Battery Russell at Fort Stevens
If you're a history buff, this is a must-see at
Fort Stevens State Park i
n Oregon. Battery Russell, which was named after General David A. Russell, who was killed in action during the Civil War, took about a year to build in 1904. Fort Stevens came under attack when a Japanese submarine shot 17 shells near this site. There were no injuries or direct hits. Keep scrolling and take a tour and then plan a trip to see it for yourself.