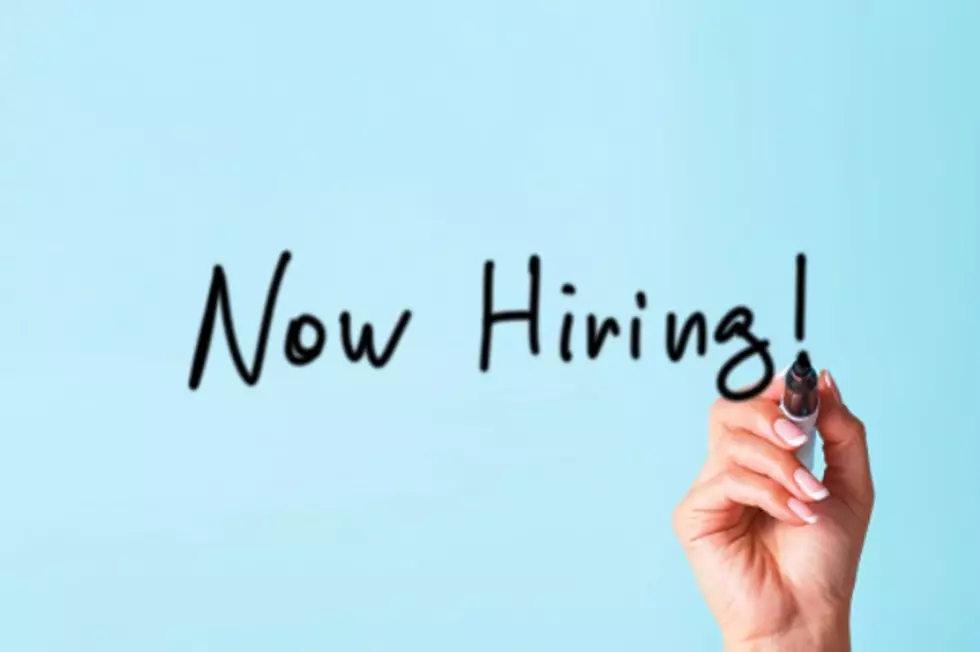 Looking for Work? Here's the Latest Job Postings
Andrey Bukreev
The local economy is booming and new work opportunities are popping up all over. It's a great time to be in a construction trade and there's no shortage of ag jobs.
If you haven't heard, processing plants in Othello, Tri-Cities and Paterson are all expanding. New businesses are coming to the Moses Lake airport neighborhood -- and they may get a NEW airport soon. But not before their new hospital is built! If you'd prefer to stay local, more housing projects have been approved for the Queensgate neighborhood and there is always expansion to the south.
…………………………………….
RF McDougall's - Hiring kitchen staff. Experience preferred but not necessary, wage DOE. Come in and fill out an application during slow times.
1705 Columbia Park Trail Richland, Washington Call (509) 735-6418
……………………………………….
WINE COUNTRY FURNITURE IS LOOKING FOR A FULL-TIME WAREHOUSE WORKER TO ADD TO OUR TEAM. THIS PERSON MUST POSSES AN EXCELLENT WORK ETHIC, ATTITUDE, AND SENSE OF URGENCY. ALONG WITH GREAT CUSTOMER SERVICE AT ALL TIMES.
TASKS WOULD INCLUDE BUT NOT LIMITED TO: - UNLOADING TRUCKS - INVENTORY - MAINTAINING CLEANLINESS OF WAREHOUSE, BREAK ROOM, AND BATHROOMS; TRASH, SWEEPING, PUTTING STOCK AND SOLD PRODUCT IN ITS APPROPRIATE AREAS - ASSIST WITH DELIVERIES; LOADING AND UNLOADING PRODUCT FROM STORE TO CUSTOMERS.
REQUIREMENTS : - MUST BE 18 YEARS OLD OR OLDER - HIGH SCHOOL DIPLOMA OR GED - VALID DRIVER LICENSE - SHOULD BE ABLE TO CARRY MORE THAN 50LBS - TIME MANAGEMENT IS A MUST - MUST BE REGULAR AND A FAST LEARNER - FANTASTIC ATTITUDE!
***APPLY IN PERSON AT 2019 W COURT ST, PASCO, WA 99301
***BRING RESUME
***NO PHONE CALLS OR EMAILS ABOUT THIS JOB POSITION.
…………………………………………..
Electrician/Site Manager (HVAC Facilities Maintenance) – Richland/Tri Cities WA
Federal O&M Contractor seeking Site Manager with strong background in Electrical and HVAC for facilities maintenance in Richland/Tri-Cities area. Must have 06B/07 electrical Lic & CFS Certification. Must have 5 yrs recent exp. in commercial or industrial electrical, mechanical, structural & architectural maintenance services in commercial facilities. HVAC Journeyman/Boiler Lic & EMS knowledge a plus. Must possess good administrative skills and ability to communicate well with constituents, be self-motivated, conscientious, hardworking & honest. Must be able to pass security background check. Position is Full-Time permanent.
Required Licenses: 06B/07 Electrical Lic & CFC Certification.
Employer is a VEVRAA Federal Contractor. EEO/AA Employer/Vets.
Contact Info: Fax: 208-263-7300
Email: Apply by Email – www.nmsinc.com
Mailing Address: NORTHERN MANAGEMENT Holly Banning 607 Church St
Sandpoint, ID 83864
……………………………………
Sr Industrial Engineer - Lamb Weston Inc - Richland, WA
Posted: 6/4/2019 - Expires: 7/4/2019
Job ID: 208806056
Job Description: Job Description Summary - Primarily responsible for LOC Continuous Improvement activities at the Richland Production Facility. Incumbent will need to be highly passionate and engaging, exhibit solid leadership skills, possess very strong industrial engineering and lean 6 sigma capabilities and be a teacher of Zero Loss thinking. Incumbent will interface closely with the Safety, Quality, Finance, Engineering and Production departments at both the Facility and Corporate Offices.
Job Description - Primary Activities and Responsibilities: * Provide leadership and direction ensuring a robust continuous improvement environment - Provide leadership for all local activities focused on improving both the effectiveness and/or efficiency of operations - Provide tracking and reporting functions to support both the Facility and Corporate requirements - Will service Facility as LOC Focused Improvement Pillar Lead working with the other LOC pillars to develop a TPM based, high performance operation * Provide technical skills and tools to facilitate sustainable continuous improvement activities - Maintain a full understanding and communicate a Zero Loss Process approach - Retain and utilize statistical methodologies to support data driven decision making - Provides education and direction on Lean Manufacturing Processes (Elimination of Waste) to all personnel at the Facility. 1. Support effective and sustainable 5S programs 2. Support effective 8 step FI process 3. Understands and supports 6 sigma processes, using the DMAIC problem solving methodology 4. Support effective Kaizen Event methodology 5. Support effective Value Added analysis techniques 6. Promotes the use of Simple Root Cause Analysis through becoming the on-site expert, teaching/coaching others and encouraging use 7. Can create/maintain documented process maps with capabilities/realities * Retains a full understanding and working knowledge of key Lamb Weston Processes & Systems - Bill of Materials System - Unit Cost System - Manifest System - Minitab Statistical Software – SAP - Capital Approval Process * Support the Plant Capital Program - Provide Savings Analysis for all projects generating cost reduction - Provide guidance and support for facility Capital Planning process - Provide Industrial Engineering techniques to project design for effective and efficient labor utilization - Provide Industrial Engineering techniques to project design for mitigation of all human / ergo safety risks
Job Qualifications - Position Qualifications: * Bachelor of Science degree in Industrial Engineering or equivalent and four to six years related experience and/or training; or equivalent combination of education and experience * Must have Continuous Improvement Experience in a manufacturing environment * Experience with lean manufacturing, six sigma or TPM desired * Experience in a food manufacturing environment desired * Change Management Experience also a benefit
http://www.lambweston.com
………………………………………….
Patient Care Technician (PCT) - Our Patient Care Technicians (PCTs) play a vital role for our patients and their families. As part of our professional team of clinicians, you will be responsible for ensuring the comfort and safety of the patients in the dialysis center.
If you haven't considered Healthcare before, read on as we think that you should. Healthcare Experience is NOT required.
What you can expect: 1:1 Patient Care. Spending the majority of your day in direct one-on-one patient care to provide safe, comfortable and hygienic dialysis treatment. Our PCTs care for up to 4 patients at a time. Building long-term relationships with your patients who are suffering from end stage renal disease and are receiving treatment on average 3 times/week. Team. Cross functional team of clinicians including technicians, nurses, dietitians, social workers and leadership. PCTs work under the supervision of a RN. Technician Duties. To monitor patients before, during and after dialysis treatment including measuring and recording stats, patient observations, and hemodialysis machine setup. Please note you will have exposure to blood and needles. Schedule. Shifts can begin as early as 4:45 am. Typically working 12 hour shifts, 3 days/week. Clinics are closed on Sundays, and may be open on some holidays.
What we'll provide: In-classroom and hands on training: if you're new to dialysis, we'll provide a 9-10 week paid training to get you ready to become the best patient care technician. Support to guide you through your training and transition into the role as well as reimbursement for your Certified Hemodialysis Technician (CHT) license. Education assistance and license reimbursement: annual $3,000 tuition reimbursement and potential $25,000 scholarship opportunity. Career path options: clinical (ex. PCT to RN), leadership and corporate. 3000+ locations across the U.S. for wherever life may take you. Comprehensive benefits: medical, dental, vision, 401k, paid time off, DaVita-negotiated discounts on hundreds of items from you cell plan to movie tickets and more
Some details about this position: Your 9-10 weeks of training will include a combination of classroom and hands-on learning, through DaVita's award-winning training programs. Training may take place in a facility or a training clinic with a class of new teammates other than your assigned home clinic. Hours of work may vary during the training period; however, you will typically be working between 32-40 hours per week during training. You must be flexible on the final home clinic placement it may be in a different location; there is also the potential to float to various clinics during and after your training. You must have a flexible schedule and be able to work mornings, evenings, weekends, and holiday
Requirements: Passion for delivering excellent patient care and building long term relationships to improve your patients' quality of life. High school diploma or equivalent. Must be comfortable working around blood and needles. Flexibility and availability to work mornings, evenings, weekends and holidays as needed. Willingness to work long hours (most shifts are 12+ hours) on your feet. Willingness to train and work across multiple clinics within the territory as needed. Healthcare experience a plus including: Bonent Certified, Certified Hemodialysis Technician (CHT), Certified Nursing Assistant (CAN), Certified Medical Assistant (CMA), or Phlebotomy certification. Are you ready to make a positive difference in a patient's life? Take the first step at.
http://www.davita.com
DaVita is proud to be an Equal Opportunity Employer - M/F/Veteran/Disability
DaVita is an equal opportunity/affirmative action employer. As such, DaVita makes hiring decisions solely on the basis of qualifications and experience, and without regard to race, color, religion, sex, gender identity, sexual orientation, national origin, disability or protected veteran status.
…………………………………………..
Clover Island Inn is hiring full time and part time housekeeping staff. Must be punctual, able to follow directions and can lift 50 lbs. No experience needed. Will train the right applicant. Apply in person at 435 Clover Island Dr. Kennewick WA 99336. No phone calls please.
………………………………………….
Openings at Petsmart - Apply to be part of our sales floor team.
Resumes send through Facebook will be reviewed, but to be considered for a position you must apply on the link below.
https://careers.petsmart.com/…/retail-sales-ass…/899/6863280
……………………………………..
The Driller's Helper is Responsible for Assisting the Driller in all Phases in the Construction and Decommissioning of water wells - This is a temporary position that may work into a permanent position depending on applicant's availability.
Minimum Job Requirements -Must have a valid Driver's License. -Must be willing to travel and stay out of town for up to 10 days at a time. -Must have the ability to bend, twist, and lift up to 100LBS overhead throughout the daily shift. -Must have the ability to work unsupervised in a fast-paced environment. -Must be able to stand for long periods of time. - Must be able to work as part of a team; listen to and follow directions. -Must be able to work in varying outdoor climates. -Must be able to work extended shifts of 12 or more hours. -Must be able to work with a flexible schedule, including weekends. - Must be able to pass a pre-employment drug screening and background check. -Must have a High School Diploma or Equivalent. - Must have basic skills in math, able to read and write in English and able to complete daily paperwork.
Beneficial Skills and/or Experience – CDL -Knowledge in welding and oxy-fuel cutting -Operate Forklift -Industry Experience -40 hr Hazwoper certification -CPR/First Aid certification
Experience not required. Those experienced in Farming, Ranching or Construction are encouraged to apply. Hoopes Well Drilling is an equal opportunity employer.
*Pay rate depends on qualifications. Please contact us to acquire an application.
2000 Saint St, Richland, WA 99354-5301
……………………………………………………….
Hiring at the Mall! Our kiosks of Toys and Wood Phone cases at the Columbia center mall is hiring right now, come and apply by bringing your resume. Must be available mornings and weekends, preferably Bilingual and have sales experience. For a best chance to get hired come to apply in Weekends between 1 to 5pm and ask to speak with the manager. Must be 18 and over!
…………………………………………….
Andy's North is currently accepting applications for a Line Cook. Minimum of 2 years cooking experience in a fast paced environment is required. Apply in person today.
………………………………………
OXARC, Inc. is a family-owned business that has been providing welding and industrial supplies, as well as, medical and specialty gases since 1968. OXARC, Inc. is headquartered in Spokane, Washington with 21 stores in WA, ID and OR.
Summary: Sell and service of portable fire extinguishers to new and existing customer base within assigned territory.
Requirements include: Must be self-motivated and able to work on own. Diagnostic, troubleshooting and problem solving experience. Excellent customer service experience. Requires valid Driver's License with good driving record. Able to lift/move up to 70 lbs. Night and week-end on-call as necessary. No experience required; will train the right person.
OXARC offers a competitive salary and benefit package -- full time employees enjoy medical, dental, vision, prescription, life insurance, 401(k) with company match, employee discount, paid holidays, vacation and sick leave.
$1500 Retention Bonus Paid After 12 Months Service.
Check us out at oxarc.com! To apply for this position please send cover letter and resume to hr@oxarc.com. May also apply in person at 716 S. Oregon Ave Pasco WA, 99301.
Must pass drug screen, physical and background check.
EEO/Affirmative Employer. We consider applicants for all positions without regard to race, color, religion, creed, gender, national origin, age, disability, marital or veteran status, sexual orientation, or any other legally protected status.
…………………………………………….
Spectrum Residential and Mobile Phone Sales Hiring Event (Kennewick, WA)
639 N. Kellogg Street, Kennewick. Offers on the Spot!
Wednesday, June 13th, 2019 10:00am - 2:00pm
Spectrum Office 639 N. Kellogg Street Kennewick, WA 99336
Benefits include paid comprehensive training and time off, excellent health packages, free Spectrum services, Education Assistance, unlimited mileage reimbursement and more. Apply today and join the 95,000+ Spectrum community, where a commitment to customer satisfaction, superior entertainment and communication products inspire us to think bigger and aim higher.
Apply today by texting "Sales" to 97211.
…………………………………………….
Hiring experienced presser for dry cleaner in Kennewick. Starting wage 14.00/hr Apply in Person.
Green Cleaners 3911 W 27th Ave Kennewick WA 99336
………………………………………………
Tyson Foods- Pasco Plant is currently hiring for multiple departments - Meat Processor- A shift at $15.60 an hour. Rendering- All Shifts at $15.60 an hour. Material Handling- All Shifts at $15.60 an hour. Mechanic- All Shifts at $21.35 an hour- incentive. Refrigeration- All Shifts at $21.35 an hour- incentive. Shag Driver- All Shifts at $16.30 an hour at qualification.
Apply online www.Tyson FoodsCareers.com or in Person at 13983 Dodd Rd Wallula, WA 99363
Tyson is an Equal Opportunity/Affirmative Action Employer. All qualified applicants will be considered without regard to race, national origin, color, religion, age, genetics, sex, sexual orientation, gender identity, disability or veteran status.
………………………………………….
Bath Fitter is seeking bath and Shower Installers!
Are you: - Tired of spending evenings and weekends bidding jobs or looking for work? - Tired of paying for all materials, helpers, gas and insurance? - Tired of beating up your truck and tools? - Do you want to earn 80k a year and be home for dinner with your family most days?
All we want is your skills, we will handle the rest for you! You Need to have: •General Carpentry experience •Plumbing Experience •Home Remodeling Experience •Clean Criminal Background & Drug Screen •Satisfactory and Insurable driving record •Desire to provide our customers with a beautiful finished product!
We Offer: •Typical Installer earns 30$ per hour or more ($60,000 to $90,000 annually) •Company Sponsored Health and Dental Benefits •Holiday and Vacation Paid Time Off •Company Vehicle, Fuel, Maintenance provided •All tools, uniform and cell phone allowance provided •Year around work, primarily indoors (Not Seasonal) •Structured two week-long paid training at our training facility •A new and different project each day. •Regular work week hours (Mon to Friday) •The ability to work on your own and interface directly with Customers. IF YOU DO NOT HAVE A RESUME - LIST YOUR MOST RECENT OR RELEVANT WORK EXPERIENCE. Interviewing Next Week. Apply to this posting fax at 509 278 0712.
Please don't apply if you do not have remodeling experience.
……………………………………….
O'reillys Auto Parts In down town Pasco off 20th is looking for a part time hub driver (delivering parts to other stores) Must be able to work anywhere from 8-5pm. Must be 21 years of age. And have a good driving record. Looking to hire ASAP!
For any more information contact Tony Torres the store Manager
………………………………………….
Espo's is now hiring experienced bartenders. 107 Vista Way Kennewick, Washington 99336
(509) 396-3815 – Apply in person. Please bring in your resume.
……………………………….
Krispy Kreme Tri-Cities WA – Bakery - To Apply, Come on in to get an application or send your resume to mykrispykremejob@gmail.com
……………………………………
North West Restoration is looking for a well-organized, detail oriented individual that works well with others and also has exceptional customer service skills. Duties include: answering multi line phones, scheduling appointments, data entry, customer follow-ups among a variety of other duties. As well as your own duties, we are looking for someone to be a helping hand to our bookkeeper. Some of those duties will include work with billing, past due calling, filing and whatever else is needed to be done. There is a lot of work to do and be kept up on in this position, being a self-starter is a must. Experience in Excel, Outlook and Word is required. Excel is our main program that is used. Must have a valid driver's license and a reliable vehicle to be considered, as you will run occasional errands for the company. Bi-lingual is preferred for this position. Please apply in person at: 1837 Terminal Dr. Richland between 8:00am-4:30pm Monday-Friday.
**Only applicants applying in person will be considered**
Call if you have any questions, (509)946-9766
………………………………………..
Construction superintendent needed for local company in Tri-Cities WA. Apply with resume to this Ad or pick up an application at 1552 Georgia Ave., Richland, WA, 99352. Please make sure to list all of your certifications and years' experience. We are a growing full service construction company that has a positive, fun, work environment with excellent opportunities. We specialize in New Construction Homes, upscale remodels, commercial new construction (as well as remodels and TI's). We are always looking for talented individuals who take pride in their work, to join our excellent team. We are an equal opportunity employer in a drug free work place. Wage depends on experience. The more experience the better! Most positions come with a work vehicle and cell phone. Apply today for full time, long term employment with advancement opportunities. We look forward to hearing from you!
……………………………………
Hiring Now!!Stylist for Supercuts in Kennewick Wash. Supercuts is seeking licensed stylist to join our creative team. Full Time and Part Time positions available. We offer Great Benefits including: * New Hourly Pay at $12.00 per hour + Super Tips *Guaranteed Clientele *Paid Vacation & Holidays *Advanced Technical Training *Career Growth Opportunities *Flexible Schedule *Busy, Fun & Professional Environment. You can apply on line at Supercuts.com or call Sally at 1-509-999-6679 to schedule your interview today.
……………………………………..
FAT OLIVES RICHLAND - Fat Olives Restaurant & Catering is now hiring for part time Catering help and part time cook/cashier positions. No experience required for catering. Good, Positive Personality a Must! Reliability is a Must! Please apply within, no phone calls please.
255 Williams Blvd. Richland, Wa 99354
…………………………………………
Part Time Job!!! Apparel and Accessory store seeking someone who is outgoing and energetic. Looking for someone with great people skills. Some sewing knowledge is preferred.
Part Time position available, 20-25 hours per week. MUST be willing to work weekends!!
Store Hours: Tuesday-Friday 10am-6pm, Saturday 10am-5pm, Sunday 11am-4pm
Renegade Classics Of Tri-Cites
4018 W. Clearwater Ave.
Kennewick, WA
To be considered for the job, please bring your resume into the store. No phone calls please.
…………………………………….
Cashier position for Gas station/Store on east Lewis st and/or Court st, Pasco. Bilingual is a plus. Text to set up an interview. Resume is required. text: (509) 531-9808 Full time.
…………………………………………..
Double Canyon is seeking seasonal harvest interns for the 2019 fall vintage. The job will focus on all aspects of the winemaking process including but not limited to: Fruit receives, sorting and processing fruit, juice/wine additions, monitoring fermentations, pump overs/punch downs, cleaning of tanks and equipment, washing/prepping/filling barrels on stillage, digging out fermenters, operating forklifts, pulling sample for analysis and assisting with lab analysis when needed, maintaining cleanliness throughout the facility. Apply in Person, 8060 Keene Road Richland.
Candidates must have a good team player attitude and strong work ethic as we will be working long hours in a variety of conditions. Must be able to lift 50 lbs. and be willing to work weekends and with possible placement on early evening shift. Positive attitude is a must and prior cellar/harvest experience a plus. Enthusiastic candidates will have a great opportunity to learn techniques both in winemaking and cellar operations.
The position will likely start in September and run through mid-November.
If you feel you have these requirements and want to join our team for the 2019 harvest we would love to have you become part of the team!
Double Canyon was established in the heart of Horse Heaven Hills in 2007. Our focus is crafting Cabernet Sauvignon that expresses the individuality of our namesake vineyard and captures the distinctive character of Washington State's best appellations. Double Canyon's new state-of-the-art winery opened its doors for the 2017 harvest.
……………………………………….
Sales Associate - Image Collection - Kennewick, WA 99336
Interested in applying to this job? Visit the business in person.
1220 North Columbia Center Boulevard B, Kennewick
…………………………………………
Help Wanted - MAX MART
Interested in applying to this job?
Apply in person. 1400 West 4th Avenue, Kennewick
…………………………………………..
At McCurley Integrity Dealerships, our facilities are one of the most modern automotive dealerships in Washington State. We are locally owned and operated by an owner that truly cares about the people that care about our business and customers. We only employ the best people that truly know how to work together as a team and make our dealerships the best place in the Northwest to grow in the automotive industry!
Several New openings!!!!
https://www.billmccurley.com/jobs
………………………………………..