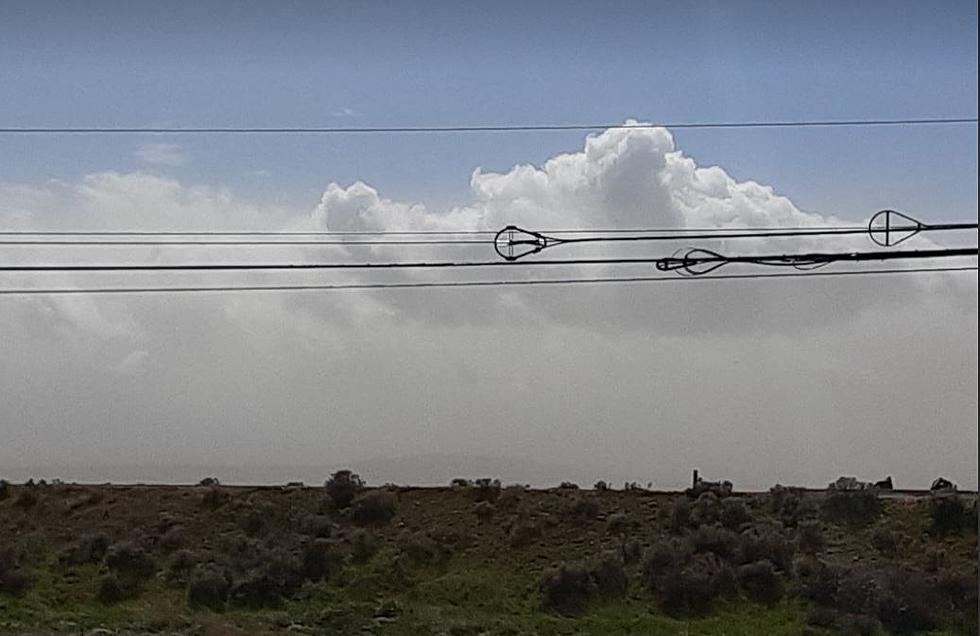 How Much Dirt Do We Lose in These Huge Windstorms?
Our view from "A" St south across river, dirt storm obsures the hills (Townsquare media)
Breezes are one thing, flying kites is fun. But this stuff Monday? It 'blows'...literally. This picture shows south across the Columbia from our "A" Street studios in Pasco. Normally you can see jump Off Joe and Johnson Butte.  Not today. Maybe a faint outline.
How much dirt do we lose in these windstorms?
Over the next day or so, through Tuesday, high winds will batter the Tri-City area and surrounding counties. Tuesday should be less windy, although rather gusty.
We shouldn't see the 50-mph gusts, just in the '20s.  But it's still miserable.
Who hasn't seen sheets of sand or dirt sweeping across their street or down from a hillside?
Especially in outlying areas, or in newer housing developments, when the wind goes away everyone's yard seems to have dirt in it. It gets everywhere, even in pant leg cuffs.
The USDA (United States Department of Agriculture) has what's called the Natural Resources Conservation Service, or NRCS.
They're tasked with tracking environmental conditions and how they affect soil, cropland, and other terrestrial factors that affect farming and land in general.
According to the NRCS, Eastern WA figures heavily into how much soil is scrubbed away, in large part due to wind.
The red parts on their map show areas where each year, an estimated 8 TONS or more per acre of topsoil is either blown or eroded away. In our case, mostly blown by the wind.  Tan areas are an average of 5-8 tons per acre per year, yellow is 3-5 and green is 1-3 tons per acre per year.
Now, this mainly applies to farmland, but it gives you an idea of what these windy conditions do to our region.
So the next time it feels like a 'ton' of dirt blew into your yard or home from the last dust storm, you're not exactly THAT far off...in the grand scheme of things.
Might be a good idea to change the HVAC filters after this one.
KEEP READING: Get answers to 51 of the most frequently asked weather questions...