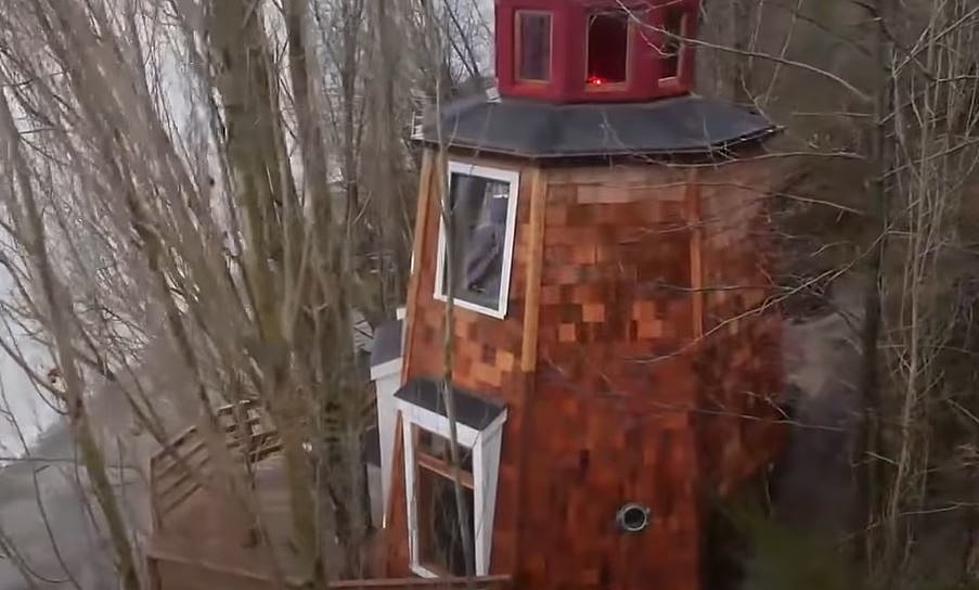 For Less Than $110,000, Washington Lighthouse Has Amazing Views of Seattle
credit: youtube
Levitating Lighthouse In Magnolia Washington Has Spectacular Views Of Seattle
I love unique real estate, especially in Washington State and there's an amazing lighthouse in Seattle that any house hunter would take a second look at.

The Levitating Lighthouse In Seattle Has An Unusual Origin
The Levitating Lighthouse is located on the Magnolia beachfront and it was built in 2014 for the Animal Planet TV series "Treehouse Masters". It's an amazing build and I think we should take a peek inside this really cool lighthouse.
As cool as the lighthouse is, it's missing a few luxuries that most people wouldn't live without. My wife is an outdoors fan so I'm sure she wouldn't mind some of the essentials but I'm not sure I could live without them.
The Levitating Lighthouse has no electricity, no bathroom, no heating and no plumbing.
If you'd still want to live here, there is still plenty of red tape concerning the property. The City of Seattle sued the owner after the Animal Planet episode aired because the lighthouse was built without the proper permits.
The City of Seattle considered the lighthouse more elaborate than the average treehouse so having the permits in place is one of the hurdles of the property getting sold.
There are some neat features in the lighthouse.
Rain water is filtered to provide water to the lighthouse and the kitchen resembles a campsite more than a functional full kitchen.
As cool as the lighthouse is, its located on a spot where years ago, a massive mudslide destroyed several homes along the hill.
Can You Imagine Living In The Levitating Lighthouse In Washington?
I'm not sure on the current status of the Levitating Lighthouse but I can't seem to find a current real estate listing for the property. If it's off the market, someone ended up with a killer deal especially considering the views of Seattle that the lighthouse is looking straight at.
You can check out a virtual tour of the property from the original video on Animal Planet and you can read more about the Levitating Lighthouse here. 
Tiny Luxury Farmhouse For Sale in Kennewick
Talk about affordable! This tiny 24' Farmhouse in Kennewick has two lofts with amazing amenities. 204 square feet with room for a king-size bed. This home has it all with heating, air conditioning, a fireplace, kitchen range with convection oven, hardwood floors, and more! No expense was spared. See this luxury tiny home today. You'll be amazed!
Oregon Stay Off the Grid and High in the Sky
This awesome property is 40 feet up high in beautiful Tiller Oregon. 4 people can stay comfortably and enjoy a hot tub with gorgeous mountain views and lots of nature. The property has a full kitchen, indoor fireplace, and private hot tub. It's the perfect getaway to escape.