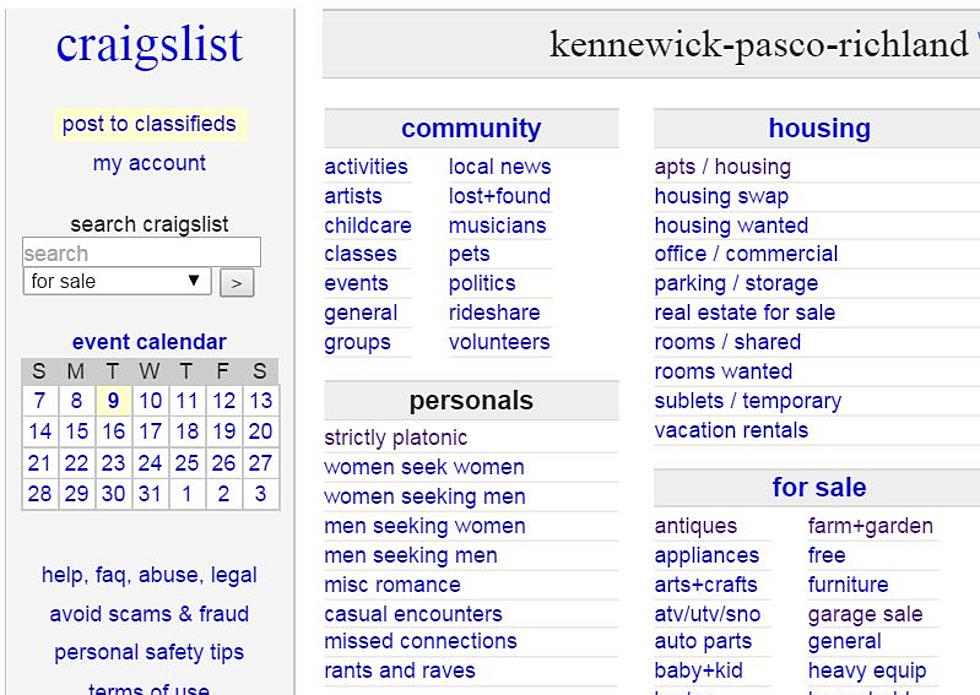 Craigslist: Kennewick-Pasco-Richland TRANSLATOR for Listed Items
Craigslist
Not everything for sale on Craigslist is what it appears, but there is a code sellers follow when describing their goods. If you crack the code, you can be a more informed shopper when picking up new stuff!
1

For Sale: Cars and Trucks

"Runs great, I'm just ready for something new."

Translation: I backed up too far into the river loading my boat last summer and it's never been the same since.

2

For Sale: Furniture

"Normal wear & tear, good condition otherwise."

Translation: I put the couch on the porch to watch boat races, got really drunk and forgot about it. Then wasn't strong enough to put it back inside by myself, then it rained.

3

Personals: Strictly Platonic

"Looking for people who enjoy great conversation in coffee shops on Sunday mornings"

Translation: I have bad personal hygiene and I'm into weird, kinky stuff so my dating prospects have dwindled. The Mud Hole boaters black-listed me and I'm too old for the Adventures Underground crowd so I need a new group.

4

For Sale: Computers

"Still works great, it's just too old for the programs I need for work."

"I found this at Goodwill on Court Street and never even plugged it in. I'm trying to flip it for a quick buck to an unsuspecting sucker."

5

For Sale: Antiques

"12-place full China set"

Grandma died and my mom was the youngest so we got the crappy stuff including this "carnival glass" set of dinnerware from the Depression era.

6

For Sale: Farm + Garden

"40 lbs bag of wood stove pellets unopened"

Translation: I've had enough of Finley and I'm moving to a condo in Kennewick.

7

For Sale: Jewelry

"Lady's Opal Ring -- make me an offer"

Translation: I've run up too much credit at the casinos and need some cash to keep playing.

8

Garage Sales

"Everything must go: lawn mowers, garden hoses, gently-used sporting equipment, old movies, etc."

Translation: We're getting a divorce.

9

For Sale: Business

"Practically-new office chairs"

Translation: I'm an entrepreneur but we haven't been making the bills so my wife made me get a job at Hanford.

10

Services

"Banjo lessons -- affordable (Benton City)"

Translation: I spent our family's Christmas budget on Seahawks tickets and need cash fast.