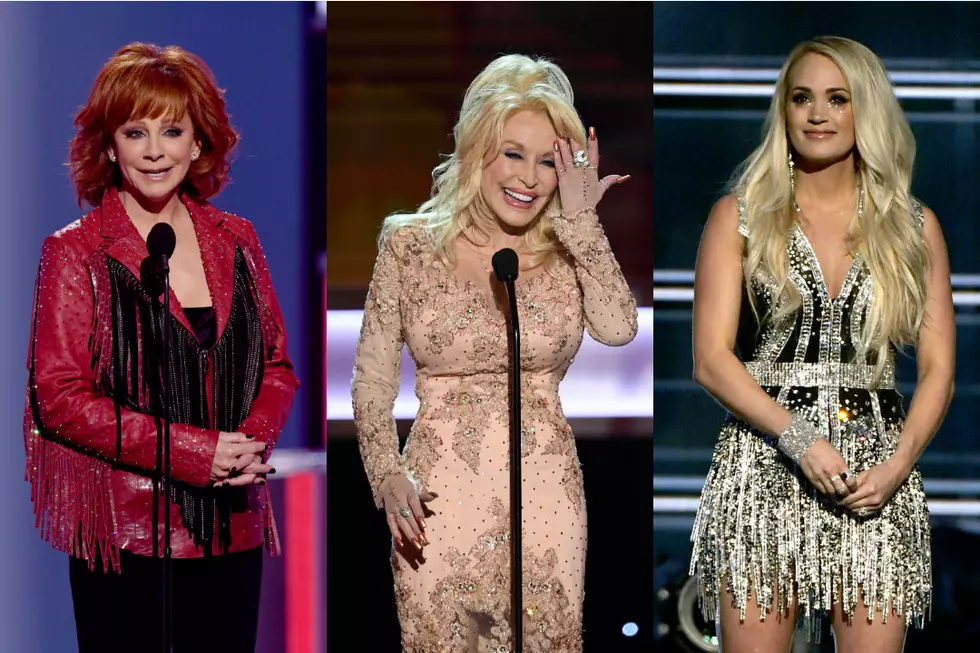 Carrie Underwood Talks Co-Hosting 2019 CMA Awards With Dolly Parton, Reba McEntire: 'It Does Not Get Bigger Than That'
Kevin Winter (2), Ethan Miller, Getty Images
Carrie Underwood is a little over one month away from hosting the CMA Awards for a 12th consecutive year, this time around with special guest co-hosts Reba McEntire and Dolly Parton in place of her longtime co-host Brad Paisley. The country star is excited to be hosting the 2019 awards show with two of the biggest names in the genre, male or female, of all time.
"It does not get bigger than that or better than that," Underwood says of her 2019 CMA Awards co-hosts in an interview distributed by her record label. "I feel like the three of us love what we do so much, and we love country music, and it means something, I feel like, to have us up there on that stage kind of driving the bus for the evening and setting the tone."
The Country Music Association plans to use the 2019 CMA Awards to honor country music's women, past and present, in addition to the usual slate of awards winners' speeches and big performances. Underwood says she's "very pleased and happy and excited" with that plan.
"I feel like women are the backbone of country music, when you think back to some of the greatest country artists of all time, like Dolly, Reba, Loretta, Patsy, Tammy -- they don't even need last names," Underwood tells late-night TV talk show host Stephen Colbert. "They were the ones that taught me how to sing, how to act, how to dress, how to be onstage, and they taught me that anything is possible. They're why I do what I get to do. I'm glad we're celebrating that, and hopefully we can keep that legacy going."
Underwood says her, Parton and McEntire's goal for the 2019 CMA Awards is to "be respectful" of both country music as a whole and the CMAs specifically, and to "shine a light on what I think is the backbone of country music, and that's the females that have come before all of us and will come in the future."
The 2019 CMA Awards are set for Nov. 13. The show will air live from Nashville's Bridgestone Arena on ABC beginning at 8PM ET.
Here's How We Hope the 2019 CMA Awards Will Celebrate Country's Women