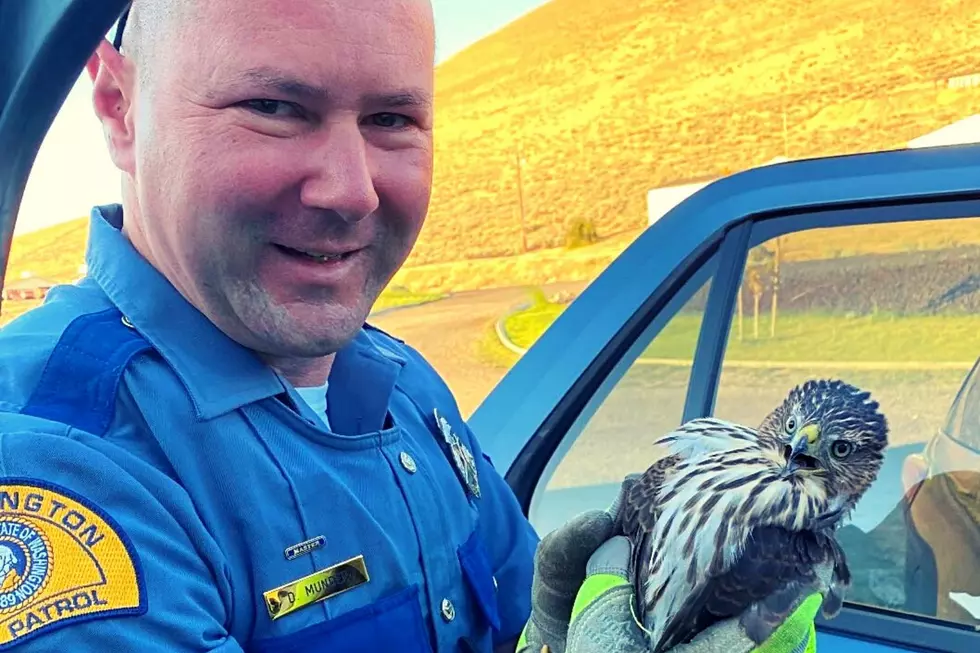 Despite Dangerous Traffic, WSP Trooper Saves Life of Injured Hawk
WSP Trooper Chris Thorson-Twitter
It's never a dull day when you're working with Washington State Patrol.
When he left his house Wednesday morning, Sergeant Munder came upon an injured hawk in the roadway. He was able to save it and took it to the Washington State Patrol Office in Kennewick.
Once at the Office, Munder contacted Blue Mountain Wildlife in Pendleton, Oregon. They were able to pick up the injured hawk and will take care of it.
What to do if you find an injured animal and want to help?
Put a towel in a box or crate with air holes.
Using another towel, carefully put the animal in the box & secure the lid.
Keep the animal in a dark, quiet place.
Never feed the animal!
Then call Blue Mountain Wildlife at 541-278-0215.
The organization rehabilitates orphaned, injured, and sick wildlife by providing necessary treatment and care to enable them to return to their natural habitats.
At BMW, upon receiving an animal, a trained rehabilitator evaluates the condition of the animal and provides medical treatment. Animals requiring specialized care are taken to Pendleton Veterinary Clinic. Feeding, administering medication, physical therapy, and reconditioning are among the many daily care tasks that are necessary for restoring an animal to a releasable condition.

Most of the animals brought to BMW have had negative encounters with humans, such as collisions with vehicles or manmade structures, gunshot wounds, poisoning or destruction of nests. Wildlife has not evolved to coexist with these situations, and we believe that humans have a responsibility to both understand and ameliorate their impacts.
WATCH OUT: These are the deadliest animals in the world
LOOK: Stunning animal photos from around the world
From grazing Tibetan antelope to migrating monarch butterflies, these 50 photos of wildlife around the world capture the staggering grace of the animal kingdom. The forthcoming gallery runs sequentially from air to land to water, and focuses on birds, land mammals, aquatic life, and insects as they work in pairs or groups, or sometimes all on their own.
LOOK: 30 fascinating facts about sleep in the animal kingdom